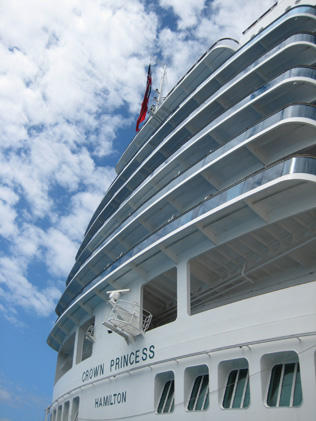 Although I've been fortunate enough to travel my entire life, I had never gone on a cruise until this past week. I've been on some pretty big overnight ferries like the one from Split, Croatia to Ancona, Italy, but never the week long Love Boat kind of deal. A while back, Princess Cruises contacted us about being a part of the first ever Twitter press trip they were planning. The deal was simple: experience a cruise of the western Caribbean free of charge and tweet the entire experience to our followers on Twitter. After a quick five minute search around Twitter, we were able to find three other tweeps that had committed. We then immediately contacted @PrincessCruises and accepted for a multitude of reasons.
Based on speaking with friends, my expectations of a cruise experience included fancy dinners, endless buffets, time spent lounging by the pool, tons of on-board activities and typical Caribbean ports of call. With Dave, half of the duo responsible for our web development and design, as my guest, we flew down and boarded the Crown Princess in Port Everglades, Florida. After checking in, we dropped off our bags in the cabin and made our way up to the Lido deck for a few beers by the pool. Before long, it was time for our initial "tweet up" and sail-a-way cocktails on the Crown Princess' Sabatini Terrace overlooking Fort Lauderdale and the coast. It was great to meet the rest of the Twitter group. In fact, I will say that the best part of this entire trip was meeting and getting to know the other "Twitterati" and our two hosts. Had I declined the trip, I would have missed the opportunity to learn more about Gary's endless trip around the world, hear about Brett's trek across the U.S. to accomplish his list of 50 things, dance with the Galavanting girls and hear Johnny Jet's dad's dirty jokes.
One thing I did not expect was just how friendly the on-board crew would be. Representing countries from all over the world, the crew on-board the Crown Princess was probably the friendliest and most personable group I've ever encountered in any resort-type setting. The friendly atmosphere wasn't because I was part of the trip. Outside of the Twitter group setting, I repeatedly encountered and had interesting conversations with crew from the minute we embarked, from a fella named Dragan at the bar on the Lido deck to our Indian buddy at Skywalkers.
The fact that the ship is only in any given port for eight hours before moving on is probably the thing I least liked about cruising. It's a bit of a whirlwind and you don't really get to know the different destinations well. On the flip side, my least favorite aspect of cruising is likely to be someone else's favorite part of the experience as you do get a glimpse of each destination that you may not have experienced at all otherwise. Also, while I really enjoyed wine-tasting and tapas followed by a formal dinner on the ship shortly after leaving Roatan, I would have preferred drinking a Port Royal beer at any of the open-air bars on the beach in Roatan's West End wearing shorts and flip flops.
If you're someone interested in taking a cruise, I would highly recommend Princess Cruises specifically for their attention to detail when it comes to service and cleanliness. The Crown Princess was not only clean, it was spotless at all times. I would like to thank @PrincessCruises for inviting @BrilliantTips to be a part of the "first ever Twitter press trip." At the conclusion of the trip, @PrincessCruises announced that they are planning a similar trip next summer in Alaska. I would recommend the experience to others and those interested should contact @PrincessCruises for more information.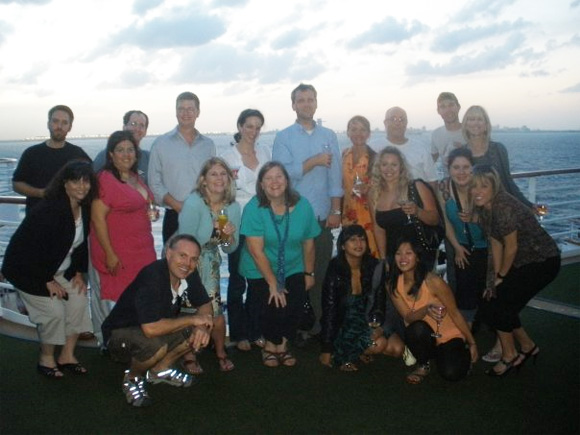 Best Part of the Trip: Meeting and getting to know the people within our group.
Biggest Disappointment of the Trip: Not being able to use Skype to conduct video calls to keep up with my three young boys at home.
Most Appreciative of: Having internet access. While slow, I had the ability to connect to and access work at home while at sea via the ship's satellite Wi–Fi. While we were given free unlimited access for the entire cruise, accessing the internet while at sea is very expensive and ranges from .35 to .75 a minute depending on the plan you choose.
Loved: Having tacos at the Thirsty Monkey on West Bay beach in Roatan.
Hated: Getting seasick. Just once though…
Biggest Surprise: How friendly and personable the Crown Princess' crew was. Absolutely amazing…
Pleasant Surprise: How reasonably priced drinks on-board the ship were.

Just as I Expected: The food on the ship was non-stop and the endless buffet was endless.
Favorite Port of Call: Roatan.

Least Favorite Port of Call: Cozumel.
Guilty Pleasure: Watching the channel on the ship that played non stop re-runs of the Love Boat. As I disembarked from the ship back in Port Everglades I couldn't get the theme song out of my head. We often had it on as background TV in the cabin. At one point, I was deep in thought doing something on the computer when Dave yelled out… "hey. that's J.J. Walker!" Hilarious. Another episode included a young Scott Baio and Kristy McNichol who had the hots for each other but neither would admit it until Julie the Cruise Director got them both to come around.
I would like to offer a very special thank you to our two lovely hosts Julie and Nicole who treated us like total rock stars the entire time. Thank you very much.
RELATED ARTICLES: