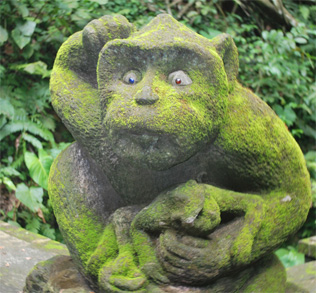 The most popular attraction in Ubud is the well preserved jungle in the middle of town called the Monkey Forest. The nature reserve and temple complex is an essential place for renewing contact with the spiritual world. Temple festivals are regularly held for villagers and the gods, making this cultural sanctuary an important part of everyday life. Visitors will have no problem spotting monkeys walking around the Monkey Forest as it's home to hundreds of long-tailed macaques. The species is often unafraid of humans and, therefore, is found in many cities and villages.
Owned by the village of Padangtegal, the Padangtegal Wenara Wana Foundation manages the Monkey Forest and is responsible for maintaining its sacred integrity while promoting the sacred site as a tourist destination. The entrance fee paid by visitors is the foundation's primary source of funding. Additional contributions can be made at the main office which is located at the Monkey Forest's main entrance.
The Monkey Forest is situated at the Monkey Forest Street, the main street of Ubud, and is very close to many restaurants and places to stay in Ubud.