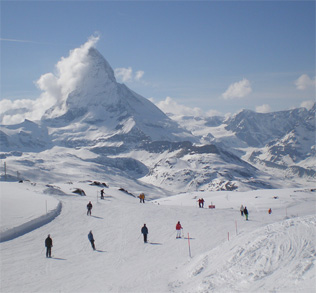 Zermatt is often considered the best and most beautiful ski resort in the entire world. Located in Switzerland, about 10 kilometers from the Italian border, Zermatt offers spectacular views and superb snow conditions that result in consistent skiing until summer. Skiing in Zermatt is split up into four areas, Sunnegga, Gornergrat, Klein Matterhorn and Schwarzsee, which combined make up over 300 kilometers of ski runs for all skill levels.
The lovely village of Zermatt is nestled in a deep valley dominated by the majestic Matterhorn. I sent a close friend here on a ski trip, by himself, and he said that as soon as he stepped off the train and caught a glimpse of the Matterhorn, he knew I'd sent him to the right place. The village of Zermatt is geographically very small and compact. There are three main streets, with numerous cross-streets, which run along the banks of the river Vispa. The area around the train station and church forms the center of the village. Just about anything in town is located within a twenty minute walk.
Zermatt is a world without cars. The only forms of transport allowed are electric-cars and horse-drawn sleighs and carriages. Watch out for the dark, steamy piles in the street. Since you can't drive once you arrive, the best way to get to Zermatt is via train. Some of the trains to Zermatt are operated by a private company. Generally, rail passes are valid on the private trains, but there is a surcharge.
For a tiny village, Zermatt has more hotels than most big cities. However, accommodation in Zermatt is among the most expensive in Switzerland. With close to 700 different places to stay, it's apparently still not enough to move prices down. Those looking for a decent rate should definitely consider booking their accommodation in advance.