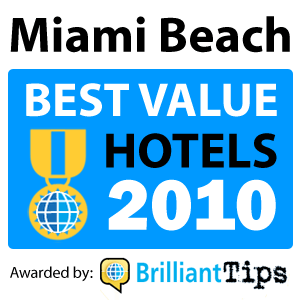 Finding a good deal on a hotel room in Miami's South Beach can be challenging, to say the least. Usually, the price of a hotel room in South Beach will really set you back. To help ease the pain, we combed South Beach to find the best hotel bargains available. Here are our 10 Best Value Hotels in Miami's South Beach:

Viscay Hotel and Apartments – Ideally located within steps of the beach and Ocean Drive, the Viscay offers guests air conditioned studios with equipped kitchens, dining rooms and wireless internet.
Cadet Hotel – The Cadet Hotel is a charming boutique hotel located in the heart of South Beach's Art Deco District. Its excellent location provides a relaxed atmosphere amidst historical surroundings.

New Clinton – The Clinton Hotel and Spa Miami Beach is very close to most of the hottest spots in town and has long been popular with celebrity guests.
Nassau Suite Hotel – The Nassau Suite Hotel Miami Beach offers apartment style accommodation with full kitchens, large closets, separate lounge/dining/sleeping areas and wireless internet.
The Delores – Situated in the heart of the Art Deco District, the Delores Hotel Miami Beach is within easy walking distance to a majority of the area's favorite attractions.
The Wave – The Wave Hotel Miami Beach is a low-key, yet stylish hotel that's located in the area's most fashionable location within the Art Deco District known as "South of Fifth Street" .
The Park Central – Located on Ocean Drive in the heart of South Beach's Art Deco District, the Park Central has remained an icon of Ocean Drive and a favorite of those seeking an authentic Art Deco experience.
South Beach Plaza Villas -The South Beach Villas are located in the Art Deco District of South Beach, a block away from the Atlantic Ocean.
Strand Hotel – The Strand Ocean Drive Hotel Miami Beach is located directly on Ocean Drive in the midst of the Art Deco District. Its central location and many services make it one of the more convenient hotels in Miami Beach.
Albion – The Albion Hotel Miami Beach is an interesting spot where culture, entertainment and scenery collide.
Essex House – The Essex House Hotel Miami Beach is a 1938 vintage beauty that is well-known for its elegant style. Recently renovated, it did not lose any of its classic appeal and charm.