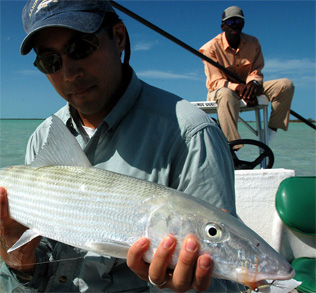 With some of the most translucent turquoise waters on the planet, the Bahamas has long been known as one of the great fishing destinations of the world. For years, visiting sport fishing enthusiasts have enjoyed the abundance of big game fish located in fishing grounds that generally take very little travel time to get to. In December and January, wahoo fishing in the reefs is the primary offshore focus. A fun alternative to big game sport fishing is bonefishing which brings together skill and finesse unlike any other form of fishing.
With miles and miles of pristine flats and sea grass beds, the Bahamas is the perfect bonefish habitat and the fish reside in huge numbers. There are so many bonefish in the Bahamas that they often form schools so large that, when they're feeding on the bottom, they stir up enough sand to be visible to airplanes flying overhead. Instead of big boats and thick rods, those bonefishing either wade or balance on the casting deck of a small boat designed for shallow water. A guide is very important, as a good bonefishing guide will tell you where to cast. This is very important as your eyes take a while to adapt to spotting the quick, silver fish in the sparkling water resulting from the sun's glare. The Bahamas' Ministry of Tourism certifies bonefishing guides throughout the islands and a list of guides can be found at www.bahamas.com.
For a list of Deep-Sea Charters in the Bahamas, please click here.
IMAGES VIA: Luyen Chou on flickr and www.bahamas.com