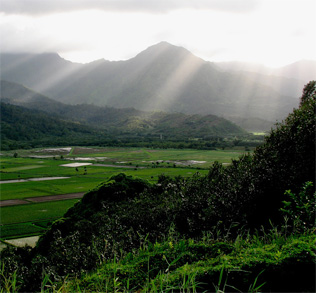 Kauai's dramatic north shore is an enchanting island paradise of rugged mountains with sparkling waterfalls, green fields and amazing beaches. Since this area of the island gets a lot of rain and sunshine, everything is very lush and green which gives it a fantasy island kind of feel. Hanalei town is located along the crescent shaped Hanalei Bay which is almost completely ringed by a white sand beach. Hanalei is a place where green valleys and majestic mountains somehow magically blend with the colorful shops, galleries and restaurants along with the eclectic mix of vacationers, surfers, long time locals and celebrities.
Hanalei is a great place to kick back and relax while catching the sunset after a busy day in the sun and surf. On Sunday evenings, Hawaiian hymns can often be heard coming from the Waioli Huiia Church. Speaking of authentic Hawaiian music, locals and tourists alike come to Hanalei town to hear the sweet sounds of the ukulele. The Hanalei Community Center frequently holds traditional ukulele and Hawaiian slack key guitar concerts. Visitors can also pick up their own ukulele at many of the island's shops.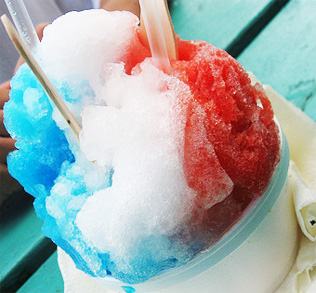 One of my favorite Hawaiian treats is shave ice and the best shave ice I have ever had was at Wishing Well Shave Ice in Hanalei. For years, I made the mistake of blowing the dessert off thinking a shave ice was simply a snow cone. A true shave ice is a scope of ice cream covered in shave ice. The shave ice portion of the treat is made by scraping a block of ice with a sharp blade to create a fine snowy powder which is then dowsed with exotic fruit flavor. My favorite combo is a scoop of macadamia nut ice cream topped with rainbow shave ice.
For information on places to stay in Hanalei on Kauai's North Shore, please click here.