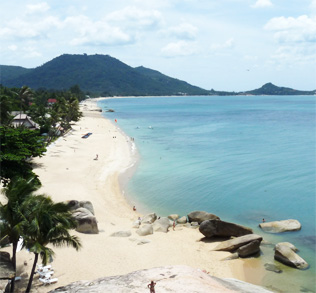 Koh Samui island in Thailand has numerous lovely beaches and bays. It is, almost literally, an island of coconuts and forested hills and is fast becoming a resort island of international stature. Koh Samui's best beaches line the northern and eastern coasts with the most popular being Chaweng, Lamai and Choeng Mon. Lamai Beach is the second largest resort area after Chaweng Beach. While it's quieter and much less crazy than Chaweng, there is still plenty of activity. Located in the southeastern part of Samui, about 10 kilometers South of Chaweng, the hundreds of coconut trees bending over the sandy beach and the surrounding blue-green water give Lamai Beach a very peaceful and natural atmosphere.
The vibe in Lamai Beach is fairly laid back and, although the area has grown quite a bit in recent years, there's still a village atmosphere. Smaller and more compact than Chaweng, Lamai has a stronger village feeling as most restaurants, bars, cafes and shops are all concentrated in the small but lively center known as "Lamai Gulch." While Lamai Beach is a good median between the more remote places and the bustling crowds of Chaweng, the party still comes alive at night and Lamai Gulch is full of energy. The beach bars offer live bands, music clubs with rock and reggae as well as trendy new music and video features.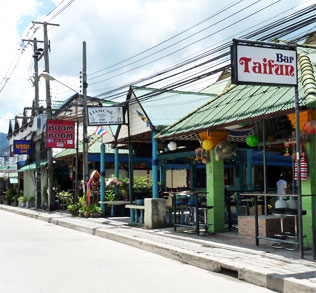 Among Lamai's main attractions are its open-air market and the old monastery which includes a local museum. If you want to get back to nature, a good place to start is by exploring the paths behind the beach road. The southern part of the beach is more inviting than the northern because there are not as many stones or coral pieces there. Also, there is no reef protecting the bay, so the seas are a little rougher for those who enjoy playing in the waves. Down the road are the famous Grandfather and Grandmother rocks, favorites among both Thai and foreign tourists.
Accommodation choices range from backpacker beach bungalows to more upscale resorts. In our opinion, the budget bungalow accommodation is the way to go. They're usually a bit cheaper and you can also find a number of nice, comfortable places that are good value.