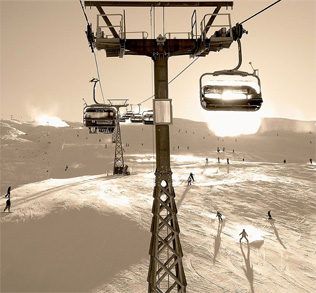 While not as popular as Switzerland and Austria, skiing in Italy can be a very memorable experience. Located in the Italian Alps, the Italian ski resort of Livigno in the region of Lombardy is a favorite of ours. One of the largest and highest ski areas in the region, Livigno is very close to St. Moritz and offers a fun, laid-back environment that draws a mostly young, budget conscious bunch of skiers. If you can get over the fact that there aren't any five star hotels, Livigno has everything you need, from great restaurants to accommodations that fit any budget.
Livigno's relatively low prices and party atmosphere attract snowboarders from all over. Although some of Livigno's terrain is off-limits to snowboarders, over 70 kilometers of runs are accessible and almost all of the higher terrain is served by chair lifts or gondola making it very boarder friendly. There is one half pipe on the Mottolino side where there's also a fun park with jumps. The resort also boasts two boardercross courses. The Livigno Ski Resort is part of the Alta Valtellina Ski Area which means that, in addition to the skiing Livigno itself, your lift ticket will allow you to ski or snowboard in the other Alta Valtellina ski resorts of Bormio and Santa Caterina.
There are two main streets that run through the valley with skiing on both sides. Livigno Hotels, restaurants, ski schools and shops extend along the two main streets. With 100 kilometers of perfectly groomed runs and lots of sun, Livigno offers big value and great fun.