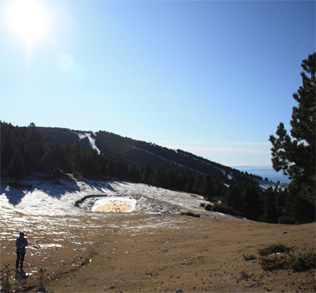 Less than a two hour drive north from Barcelona is Bergueda, a comarca (or county) in Catalonia, Spain. The capital city, Berga, separates the comarca into the northern half known as Alt Bergueda and the more populous southern part known as Baix Bergueda. Alt Bergueda includes the pre–Pyrenean mountain range which starts at Berga and is very mountainous and scenic.
Rasos de Peguera is a ski resort located not far from Berga that is currently out of service. While it's cold and getting there and back can involve some fairly strenuous driving, visitors will be amazed by the views and the peaceful atmosphere. The ski station now facilitates all kinds of outdoor activities like trekking and snowshoeing. As part of a trip sponsored by the Department of Tourism of Catalonia, I recently went on a trek around the area which featured stunning views that included a glimpse of Andorra. As we traversed our way down to the ski station at the conclusion of our pleasant trek, we stumbled upon a bunch of families sledding. Upon entering the main lodge, I was surprised to see that it was filled with families sitting by the warm fire. It was such a cozy scene that I was kind of bummed to be leaving so soon. However, this only lasted until I walked into the restaurant Els Roures which was located just a short drive further down the mountain.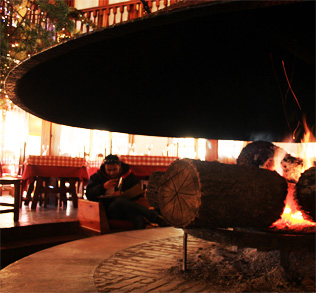 Famous among the local Catalans, Els Roures is a fantastic countryside restaurant with great rustic charm and a very warm and cozy feeling. With a massive open fire as its center piece, Els Roures has been serving typical dishes from the area of Berguerda for over 30 years. After a quick walk around the place to soak in the atmosphere, I sat by the fire and was handed a cup of hot chocolate. However, this hot chocolate was like none that I've had before. This hot chocolate was so very thick, like the consistency of pudding or brownie mix, that I needed a spoon to enjoy it (which I did…very much).
My lunch here may just have been the best overall lunch experience that I've ever had in my life. It was absolutely amazing. The cuisine in Alt Bergueda includes typical mountain fare complemented by the greatly appreciated local mushrooms. My favorites among the dishes served were wild mushroom cannelloni and the traditional grilled sausages. I was also a big fan of the sangria made with wild berries, native to the mountains, and the mushroom liqueur.