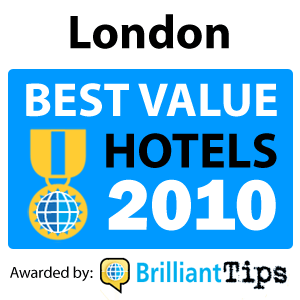 London is not necessarily known for being a city bursting with inexpensive accommodation. It is, however, a city famed for its rich history, charm and character. Fortunately, we have uncovered the top places to crash that offer both great value as well as charm in ideal locations throughout the bustling city.

Euro Hotel Cartwright Gardens London – Handily placed in the heart of London, the Euro Hotel offers a perfect combination of ideal location and value. The property is a charming period building in the West End of London. The building originally consisted of three Georgian houses built in 1807 for wealthy merchants. The three houses were later converted into the single building which you can stay in today.
Garden Court Hotel London – Centrally located London on the border of Bayswater and Notting Hill, the Garden Court Hotel is nestled on a quiet street, yet has excellent access to public transport. The independent hotel is an English Heritage listed building. It is just a 5 minute walk form Hyde Park and Portobello Antiques Market and is surrounded by a fantastic selection of cafes, restaurants and pubs.

Falcon Hotel London – The Falcon hotel is located in a tranquil English square, yet it is very central in London and very near Paddington Station.  Converted from an Edwardian building circa 1890, the bed and breakfast is near many attractions, entertainment and is just a 5 minute walk to Hyde Park, Oxford Street and Marble Arch.
London House Hotel – This city hotel is situated on a quiet and charming street in the Bayswater area, just a short distance from Hyde Park and the fashionable Notting Hill. The vibrant Queensway is a short stroll away and features bars, ethnic restaurants, coffee shops and Whiteleys shopping centre.
Merlyn Court Hotel London – Handily located in the heart of London in the Kensington district, the Merlyn Court Hotel is a family run Bed and Breakfast offering excellent value in a friendly and quiet atmosphere. The property is well served by the public transport and underground network, thus providing easy access to all the main attractions, entertainment, theaters and shopping districts of London.
Meridiana Hotel London – Located just a short walk from King's Cross St Pancras Station, Hotel Meridiana is a low cost, family-owned hotel in central London. Created for the budget conscious visitor and ideal for single travelers, the hotel offers clean and comfortable accommodation at great rates.
Best Western Victoria Palace Hotel London – The Best Western Victoria Palace is a recently refurbished, modern property within walking distance of Victoria Rail Station and Coach Terminal. A host of attractions are only a short walk away, including Buckingham Palace, Houses of Parliament and Westminster Abbey.
Ruskin Hotel London – The Ruskin Hotel is perfectly located for both business and leisure guests to London. The Ruskin Hotel boasts a convenient location near Russell Square and the British Museum with modern amenities in every guestroom and superb service.
Wyndham Hotel London – With its central location near Baker Street Station and Marylebone Road, Wyndham Hotel is a bed and breakfast within easy reach of most tourist attractions and business addresses in London. The Wyndham Hotel boasts a convenient location with modern amenities in every guestroom and superb service. The hotel creates a balance of rich culture and modern convinience to ensure its guests have a memorable stay.