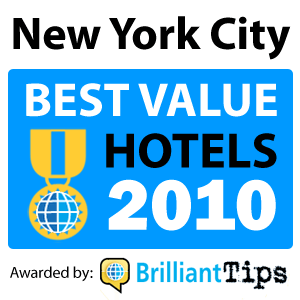 Finding a good deal on a hotel room in New York City can be challenging, to say the least. Usually, the price of a hotel room in New York City will really set you back. To help ease the pain,we've combed New York City to find the best hotel bargains available. Here are the 10 Best Value Hotels in New York City:

Chelsea Hotel New York The historic landmark Chelsea Hotel is centrally located in the heart of Chelsea – one of the most vibrant neighborhoods of New York City. Immortalized in song, print and film, the Chelsea has been home to some of the most gifted minds, such as Mark Twain, Arthur Miller, Tennessee Williams, Dylan Thomas, Larry Rivers and Andy Warhol.
Gershwin Hotel New York The Gershwin experience begins as soon as you walk into the Pop Art-bedecked lobby, a museum space unto itself that contains an actual Campbell's Soup Can by Andy Warhol, signed by the artist himself.

The Jane Hotel New York This charming 3 star hotel is for tourists who want to see the real New York at budget prices. Located in Manhattan's chic West Village, guests will have style, trend and excitement just outside their door.
Cosmopolitan Hotel New York The Cosmopolitan is the smart place to stay when you want to stay downtown. Located in the heart of Tribeca, the Cosmopolitan is quiet and relaxed. The Cosmopolitan offers rates among the lowest in the city, a friendly staff and comfortable rooms with complimentary of WiFi Internet.
Hotel 17 New York The newly renovated and improved Hotel 17 has just gone through a dramatic restoration project improving and upgrading all old world style rooms. Hotel 17 has been voted "Best Budget Hotel" by New York Magazine. Entertainment Weekly voted Hotel 17 in their top 10 Cool Places to Stay a few years back.
Herald Square New York A tourist-class, newly refurbished hotel in the landmark building that housed Life Magazine. It is located near the Empire State Building, Macy's, Madison Square Garden, and Fifth Avenue shopping and is within walking distance of Times Square.
The Marcel New York Those in town to discover the culture and history of New York will be a short distance from popular attractions like Greenwich Village, Union Square, Madison Square Park, and Madison Square Gardens Arena.
Hotel 41 Times Square New York Hotel 41 is a contemporary hotel nestled amid the vibrancy of New York's world famous Times Square. Its prime location is next door to the Nederlander Theatre, home of the musical RENT, and just steps away from Broadway Theatres, entertainment and restaurants, Rockefeller Center and Radio City Music Hall.
Belvedere Hotel New York The Belvedere Hotel New York offers a warm, family tone set in an Art Deco theme. It is a stylish, authentic, and friendly home away from home offering fitness and business facilities as well as the famed onsite Belvedere Cafe.
The Pod Hotel New York The Pod is a hotel for the budget minded traveler offering affordable and contemporary accommodations. It is located next to United Nations headquarters in the heart of the Midtown East area with shopping just minutes away.