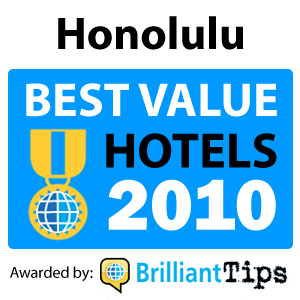 Finding a good deal on a hotel room in Honolulu's Waikiki Beach is easier than you might think these days. Many hotels in Honolulu are offering great deals with some of the bargains starting as low as $65 per night.  What exactly are the best value hotels in Honolulu's Waikiki Beach area and what kind of bargains are they offering? Have a look at our top 10 best value hotels in Honolulu's Waikiki Beach area:



Best Western Coconut Waikiki Hotel Honolulu – Newly renovated and decorated with a splash of art deco, the Coconut Waikiki Hotel is a boutique hotel centrally located in Waikiki. Nestled between Waikiki Beach and the Ala Wai Canal, a perfect place for jogging, strolling or just relaxing, the hotel features a hip and chic lobby.
Aqua Aloha Surf Hotel Honolulu – Generally available for under $75 per night, the Aqua Aloha Surf Hotel is one of Waikiki's most popular hotels. This designer appointed boutique hotel where surf style meets urban sophistication is located two blocks from the beach and steps from dining and shopping.



Celebrity Resorts Waikiki Honolulu – Situated amongst the hustle and bustle of Waikiki, Celebrity Resorts Waikiki maintains the ambiance of Hawaii as it used to be 40 years ago. The surf, sun and sea lull you into a tropical euphoria. Celebrity Resorts Waikiki provides live Hawaiian music and hula dancing at no additional cost. Check out the Hawaiian jam session held here every Monday evening.

Ilima Hotel Honolulu – The Ilima Hotel is centrally located in the heart of Waikiki. Value-minded travelers will find spacious studios with a fully equipped kitchen, air conditioning, and daily maid service. The hotel has two rooftop sun decks, a cozy heated pool, a sauna, and limited free parking available.
Aqua Waikiki Wave Hotel Honolulu – The Aqua Waikiki Wave is a boutique hotel featuring spacious rooms with a hip decor. It is located one block from the beach and next to the International Marketplace in the heart of Waikiki. This fashionable hotel is a great deal with rates starting around $110 per night.
Equus Hotel Honolulu – The Equus is a spectacular new boutique hotel featuring Ralph Lauren-inspired rooms located one block from the beach and near the Hilton Hawaiian Village. This intimate hotel is also one block from the Ala Moana Shopping Center. Rates are often in the $85 range.
Park Shore Waikiki Hotel Honolulu – Relax among awesome mountains and shimmering white sand beaches at the Park Shore Waikiki. Overlooking the lush expanses of Kapiolani Park, this breezy Honolulu hotel perfectly blends classic Hawaiian charm and modern convenience. Step out and gaze upon an endless stretch of shoreline that extends as far as the eye can see. Rates are often available under $100 per night.
Ohana Waikiki Malia Hotel Honolulu – Another property often available under $100, The OHANA Waikiki Malia is a terrific choice for accommodation when visiting Waikiki. This 327-room hotel is conveniently located on Kuhio Avenue, a short stroll to many of the shopping, dining and nightlife options Waikiki has to offer.
Waikiki Parc Hotel Honolulu – Celebrating the emerging new 'Honolulu-chic' lifestyle, the Waikiki Parc Hotel is just steps away from Waikiki Beach. The rooftop pool, the city skyline and the beautiful beach can all be enjoyed for as low as $129 per night.
Ohana Waikiki West Hotel Honolulu – The Ohana Waikiki West is steps away from the International Market Place and two blocks away from Waikiki Beach. This popular hotel offers a slew of amenities, including a pool overlooking the street and a sundeck.