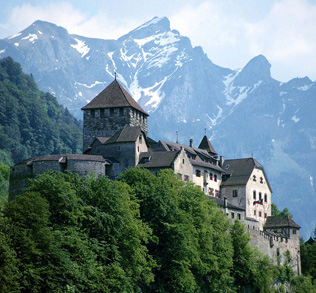 Liechtenstein may be the size of a postage stamp, measuring only 6 kilometers from west to east, but despite its size, it is a wonderful place to enjoy a wide range of winter activities. The fourth smallest state in Europe offers the opportunity to glide down snowy hills, wander along spectacular hiking routes, experience tiny mountain villages and see the art collections of the Prince. No visit to Liechtenstein is complete without getting your passport stamped. A unique and popular thing do, each year over 40,000 passports are stamped.
Vaduz is a beautiful town that sits below the historic Vaduz Castle. This symbol of Liechtenstein towers over Vaduz on a rock terrace and can be reached by way of a hiking trail. The Red House consists of a late medieval, gabled stair structure with a tower that can be seen from afar. At the very popular Postage Stamp Museum, you'll find a wide array of the tiny works of art.

Whizzing down the slopes at Malbun is an adventure for the entire family. The finely groomed slopes offer ideal skiing conditions on easy to demanding downhill runs. Located in the middle of this cosy family resort, children will find the Malbi Park. Here children can make their first attempts to ski or improve their skills while the adults treat themselves to a drink at the Snow Bar. The Liechtenstein Alps also offer fantastic winter hiking trails for nature lovers. We recommended two routes. Sassweg is a fairly easy circular route with gentle inclines that takes about 2 hours and Schwemmiweg is a brilliant hiking trail with a 100 meter incline that also takes 2 hours. If you bring or rent a sled, you can try the toboggan run.