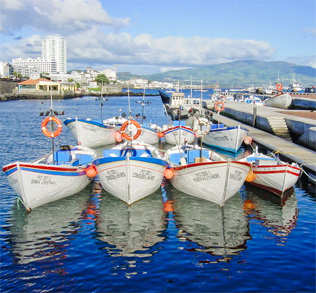 The Azores are a Portuguese archipelago comprised of nine volcanic islands that, for some strange reason, are not overrun with tourists. You might remember that there was a famous emergency landing made here in 2001 where a plane ran out of fuel and safely and successfully coasted into the Azores. The islands lie about two thirds of the way between the east coast of the United States and Portugal, making it an easy and convenient and a not-so-expensive trip from either locale. Independent and/or adventurous travelers looking to travel somewhere unique will highly rate a visit to the Azores. Thanks to the Gulf Stream, the climate is mild all year round with high temperatures in the 60s and 70s (15 to 25 degrees Celsius). Rain is sporadic throughout the day, but if you wait long enough the sun will shine again in a few hours or minutes. This is why the land is so green and rainbows so frequent. The natural ecosystem is amazing, as is the culture, history and architecture. The islands have a somewhat tropical feel with European characteristics. The main problem you'll encounter is deciding which islands to visit. Don't worry. You'll be drawn to return in which case you can visit the islands you missed on your first trip.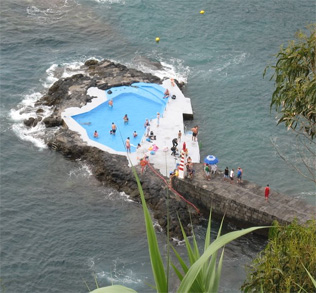 It's a good idea to start off on the island of São Miguel as the capital city is located here as well as the main airport. From Boston, non-stop flights are only about four hours and from Lisbon only about two. Surrounded by the Atlantic, you might think beaches would be a good reason to visit. However, the Azores are not really a beach destination (though there are some sandy stretches of coast, it's certainly different from the Caribbean or Hawaii). It's the inland parts of the islands, the green volcanic mountains speckled with waterfalls, sparkling blue lakes, picturesque black and white architecture, the beautiful hydrangea covered hills of Flores (aptly named for the Portuguese word for Flowers), that will have you itching to come back… and wishing you remembered the rules for great landscape photography that would land your photo in National Geographic's archives. The Azores are awash in flowers in the spring and the summer months provide prime whale watching.
Activities are endless. You can go hiking, boating, kayaking, surfing, golfing, paragliding, diving and more. Of course, if you're like me and like to swim and dive, but really only if the water is reasonably warm, do not fret the fact that the Azores are surrounded by the frigid Atlantic. The surrounding ocean waters are actually warmed by the Gulf Stream maintaining water temps of around 70 degrees Fahrenheit or 22 degrees Celsius. There are deep depressions to be found that are formed by the collapse of small volcanic craters as well as reefs that provide plenty of unique and fascinating diving opportunities.
IMAGES VIA: Jsome1 and MJorge on flickr