The Azores are a Portuguese archipelago comprised of nine volcanic islands that have a somewhat tropical feel with European characteristics. The main problem you'll encounter is deciding which islands to visit. Don't worry. You'll be drawn to return in which case you can visit the islands you missed on your first trip. Here's a quick synopsis of the islands' highlights: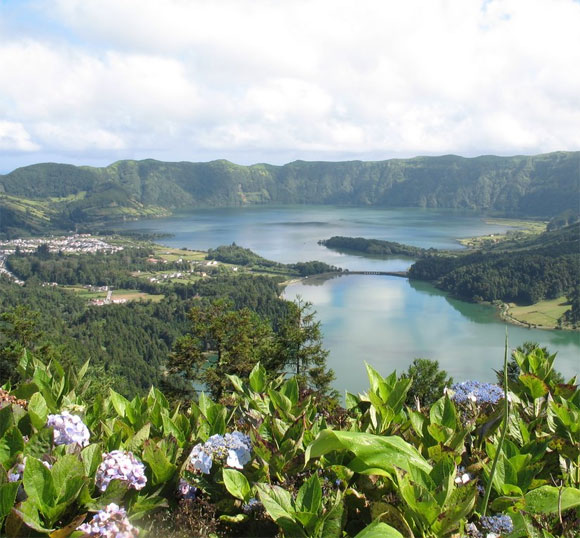 Faial is renowned for its marlin fishing, is a frequent port of call for yacht crews crossing the Atlantic and is home to Horta, a vibrant city renowned for its whitewashed houses. You'll find warm green hills and red picturesque windmills in the countryside and the undersea volcanic caves hide schools of colorful fish.
Corvo's charming white houses sit high above the sea amongst a vivid green landscape. There is a striking blue lake found at the bottom of a deep crater and the locals uphold many traditions of the Azores.
Graciosa is a small, tranquil islands with vineyards, stone walls, and white windmills all surrounded by the crashing waves of the Atlantic.
Pico is an island of extremes. It is the highest mountain in Portugual with a rich whaling, farming and fishing history. Despite the uninviting volcanic soil, settlers managed to create bountiful vineyards of figs and grapes while other parts of the volcanic landscape remain barren.
Santa Maria's steep terraced vineyards climb its hills while white chimneys adorn the traditional homes of Portuguese settlers. The island's historic villages of Vila do Porto and Anjos, which witnessed the arrival of Columbus on his first voyage to America, possess charm and character.
São Jorge is a very green island with vegetation covering hills and valleys that afford amazing views of Pico and its sometimes snow-covered mountain peak. Sheer cliffs plunge into the sea and the beautiful landscape is made more inviting with the sound of the songs of the native birds.
São Miguel is the largest island and most visited. It has the vibrancy of city life with museums, churches and palaces of art and historical treasures as well as the tranquillity of lush green countryside dotted with colorful flowers and volcanic lakes. Activities abound on this island.

Terceira has a port which once welcomed galleons laden with spices from the Orient and gold and silver from the Americas. Its historic city streets transport you back to the 16th and 17th centuries while the countryside is often flat with green fields dotted with dairy cows and charming white houses. You might be able to catch a traditional pastime here such as street bullfighting or a more modern activity such as golf.
IMAGES VIA: trebol-a and MJorge on flickr