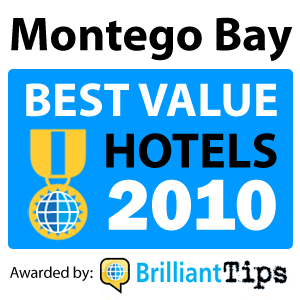 Reggae music, colorful artwork, sun splashed sandy shores, lush greenery and warm blue waters define Montego Bay, Jamaica. Relax in the sun, revel on "The Hip Strip", snorkel in the clear waters, or visit historic buildings. Do as little or as much as you so desire in this laid back vacation locale. Tourism is the main industry here, so we have compiled a list of the best value hotels to make your vacation planning as carefree as Montego Bay itself.



Tobys Resort Montego Bay – Based in a convenient location at the beginning of "The Hip Strip", this property attracts the easy going, adventurous tourists and returning guests who need a peaceful and relaxing environment to spend their vacation. The hotel is a few minutes stroll from Doctor's Cave as well as Cornwall Beach. It is about ten minutes walk from the ever-popular Margueritaville.



Caribic House Montego Bay – Caribic House is located in Montego Bay in the heart of the tourist center affectionately known by the locals as "The Hip Strip". On the ground floor is the hottest spot on Gloucester Avenue, the Jamaica Bobsled Cafe and Pizzeria. Try their award winning snacks! A couple of footsteps in either direction will reveal a choice of Jamaican, Chinese, Continental, Seafood restaurants. Beautiful beaches are also just a short walk away.

Gloustershire Hotel Montego Bay – Situated in the heart of Montego Bay's famous Gloucester Avenue, this hotel is near the area's quaint shops, tempting local restaurants and colorful street fairs. Just steps away from the hotel is the world renowned Doctor's Cave Beach.
Altamont West Hotel Montego Bay – Just across the street from the white sands and sparkling turquoise waters of the Walter Fletcher Beach, Altamont West Hotel is the perfect Montego Bay accommodation that allows guests to experience all that Jamaica has to offer. Walter Fletcher's sandy stretch of paradise is easily one of the most beautiful shorelines on the north coast of Jamaica. This hotel's blend of location, style and service is what makes it unique.
El Greco Resort Montego Bay – El Greco Resort is a quiet retreat on the top of Queen's drive less than five minutes from Sangster's International Airport, Montego Bay. The resorts sits away from it all atop a lush mountain top with panoramic views of the sea, yet it is only an elevator or bus ride away from the popular Doctor's Cave Beach on Gloucester Avenue ("The Hip Strip") which is the heart of exciting Montego Bay.