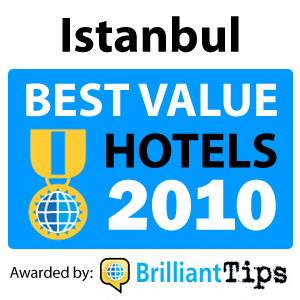 Istanbul is a feast for the senses. The architecture inherited through the centuries is varied and impressive and includes such places as the Blue Mosque, Topkapi Palace, Hagia Sofia, and the Hippodrome. East meets west at this crossroads between Europe and Asia. The streets are alive with the hustle and bustle of carpet salesmen, backgammon games, colorful bazaars with friendly haggling, vibrant music, calls to prayers, and friendly people. Tea gardens offer an escape from the daily bustle. Nighttime gives way to lively clubs, bars and other hip entertainment venues. Accommodation choices can be daunting, but we have created a list of some of the best value hotels offering, at a minimum, comfort and great location.

Sapphire Hotel Istanbul – With its central location in Sirkeci, adjacent to Sultanahmet, Sapphire Hotel is within easy reach of most tourist attractions and business addresses in Istanbul. This unique hotel is characterized by a combination of modern comforts and amenities with traditional elements of Istanbul.

Kupeli Hotel Istanbul – Kupeli Hotel was recently opened in the Sultanahmet district and features bright and clean guestrooms. The superb location in old Istanbul offers a multitude of historical attractions within walking distance. The world famous Grand Bazaar is just steps away, while many more historical monuments and relics from Byzantium and Ottoman Empires such as the Obelisk, Underground Cistern, Hippodrome and the Blue Mosque are only a five minute walk away.

Mina Hotel Istanbul – The Mina Hotel Istanbul is located in the Sultanahmet area of Istanbul, the most historically significant by many measures and a very popular destination for visitors. Walking about this area will reveal the Blue Mosque, Hagia Sophia and other monuments that span thousands of years of history.
Sur Hotel Istanbul – Istanbul Hotel Sur is an old Ottoman house which was built 120 years ago and was most recently renovated in 1999. Hotel Sur is near Istanbul's historical walls and has a sea view. The hotel has a nice terrace and clean rooms. It is just a five minute walk to the Blue Mosque, Hagia Sophia, Topkapi Palace, underground Cistern and the Grand Bazaar.
Bilinc Hotel Istanbul – Bilinc Hotel is a recently refurbished, family owned hotel in a great location within the old city center. The hotel is in the midst of tourist, business, entertainment and shopping areas. All historical attractions and monuments are within a short walking distance such as the Grand Bazaar, Blue Mosque, Hagia Sophia, Topkapi Palace and more.
Hotel Ida Istanbul – Ideally located within walking distance to the famous Sultanahmet Square, the Ida Hotel is a fine place to stay for those who want to explore this enchanting city. This Istanbul hotel is also conveniently situated near the Topkapi Palace, the Blue Mosque , Hagia Sophia, the Turkish and Islamic Art Museum, the Archaeological Museum, the Carpet Museum, the Mosaic Museum and the Grand Bazaar.
Barin Hotel Istanbul – The area around the Barin Hotel Istanbul is a living museum of Istanbul history. Hagia Sophia, the Blue Mosque, the Grand Bazaar and much more are all within a few kilometers of the hotel. Public transportation is very accessible in this area, offering passage to more distant destinations.