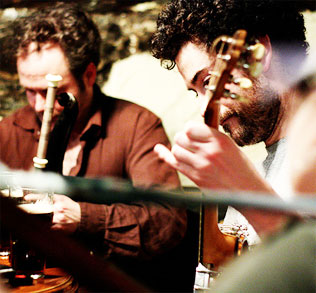 While at the New York Times Travel Show last weekend, I stopped by the Nova Scotia Tourism booth to see what was new and had a great chat with their sales rep Michele. One of the things we talked about was Nova Scotia's Celtic culture and history and its vibrant music scene. There are as many different ways to soak up a memorable music experience in Nova Scotia as there are many varieties of music. Numerous live performance venues create a vibrant music scene encompassing everything from Celtic Folk Music, Acadian and Aboriginal roots music, to country, hip hop, pop and rock.
Legendary Cape Breton Island Kitchen parties and Ceilidhs are where musicians like Natalie MacMaster, the Rankins, Gordie Sampson and the Barra MacNeils honed their skills while friends and family danced to their jigs and reels. Visitors can take a Halifax tour of the pub and club scene to see the venues where big names like Sloan and Juno-nominated alternative rocker Matt Mays got their start amongst crowds of die-hard fans singing along.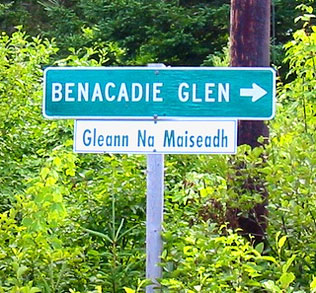 Annual festivals like the Celtic Colors International Festival in Cape Breton (held for 10 days each October) and the TD Canada Trust Atlantic Jazz Festival in Halifax put local and international stars in the spotlight. Halifax also hosts big stage productions like DRUM!, a rhythmic extravaganza celebrating each of the four founding cultures: Aboriginal, Acadian, Black, and Celtic.
Cape Breton Island, in particular, offers a chance to truly explore Celtic culture and history. A common saying here is "ciad mile failte" which translates to "a hundred thousand welcomes." The saying is typical of the warm greeting the island's visitors can expect. While driving around, visitors will also notice that many of the road signs are posted in Gaelic as well as English. To truly experience the Celtic culture, be sure to visit The Gaelic College of Arts and Crafts where you'll find students of all ages from around the corner and around the world who travel here to study traditional Scottish disciplines including Gaelic language and song, music, dance and crafts. The Highland Village is a living history museum and cultural center that celebrates the Gaelic experience and the Celtic Music Interpretive Center offers one day step-dancing workshops and week long fiddling courses.