One of my favorite things to do while visiting London is to head over to the markets in Camden Town, one of the most visited tourist attractions in London. When I was much younger, I went to Camden Town for the rare CDs and the alternative clothing. Now it's simply to explore the hundreds of colorful stalls, shops, restaurants and bars selling an extensive array of goods that include vintage clothing, unique pieces of art, antiques, jewelry, amazing international food and, of course, the records and CDs. There are a few cool places to stay in Camden Town which has a character all its own that attracts huge crowds of Londoners and tourists alike.
The largest street market in the UK, Camden's markets attract around 500,000 visitors each week. The various markets located in Camden Town, collectively known as Camden Market, are Camden Lock Market, Camden Stables Market, Camden Canal Market, Inverness Street Market, and Buck Street Market. Camden Lock Market, located by the canal, was originally a craft market, but now has a much wider range of goods on sale. The popular Camden Stables Market is the center of the alternative fashion scene and is world renowned as the place to shop for alternative clothing. No visit to Camden Town is complete without stopping at one of the many pubs, clubs and bars which vary in range from the trendy fashionista hang-outs to the good old family joints.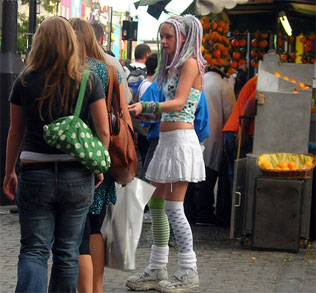 The weekends are the busiest time for the Camden Town markets. The stalls and shops are typically open from around 11am to 6pm on Saturday and Sunday. Weekdays are a great time to go as visitors can avoid the huge weekend crowds and can browse through the shops without all the hustle and bustle. Camden Town is in North London and is served by Camden Town underground station which is on the Northern Line. Another option is to get off at Chalk Farm, also close to the markets. There are also various buses that you can hop on to get there.
IMAGES VIA: bortescristian and malias on flickr
Our London hotels page presents hotels ranked by popularity – read traveler reviews and search multiple sites for the best deals on the best hotels in London.