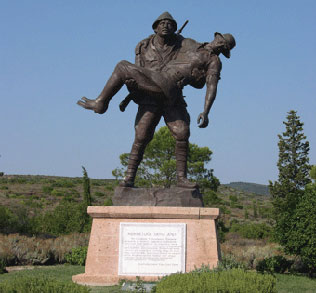 A few years back, I traveled through Turkey with an Aussie friend of mine. We began our journey in Istanbul then traveled southbound. Traveling with an Aussie meant that a visit to Gallipoli was a must. To be honest, I'm sorry to say that my history teachers and my own readings didn't touch upon this important battle location of World War I. I only learned about Gallipoli while I was traveling; initially through a guidebook and in more detail from my Australian friend.
ANZAC Day, 25 April, is a public holiday in both Australia and New Zealand and is commemorated honor members of the Australian and New Zealand Army Corps (ANZAC) who fought in Gallipoli during the First World War. Many make a pilgrimage to Turkey during this time. If you've ever been to Australia or New Zealand during this holiday, you'll find veterans playing a game called two-up. Two-up is a traditional game which is "true-blue" Australian and is allowed to be played legally in public places on ANZAC Day (as it's actually gambling, it is not normally allowed in public areas outside the casinos). It is said that the game was often played to pass the time during the battles of Gallipoli.


On we went to organize a guided tour to Gallipoli (with a stop in Troy). By the way, I highly recommend going with a guide as opposed to the self guided option. On this tour, we were the last to hop on the bus of about 10 people. All on board greeted us with a "g'day" or a "how ya goin'"; an indication of just how important this location is to these nations. The impact of the tour was incredible. We stood in a battlefield that is now a memorial site known as Lone Pine. The battlefield area was only about 5 acres and lasted just about 5 days, yet at the end of the battle there were over 2000 Australian casualties. Turkish losses are not known, but are estimated at 5,000 to 7000 or perhaps more. The impact of standing in this small grassy area covering the actual trenches of the battle is indescribable. It is unimaginable. I remember the Turkish guide telling stories of the Allies and the Turks exchanging cigarettes during the gruesome battle. Our guide also pointed out the steep hill the Allies encountered upon landing in Anzac Cove. The landscape was unexpectedly rugged, open, steep and the climate hot. Standing here and looking at this landscape, it is hard to imagine the soldiers climing these hills in their stifling uniforms.
I recommend watching the 1981 film Gallipoli about the battle at the Nek in Gallipoli, Turkey. The film is a Peter Weir film and features a young Mel Gibson. The film does contain some factual errors, but then again it is not considered a documentary. However, it gives you an idea of what the Australian and New Zealand force went through during that 1915 battle. Well worth a rent. To experience Gallipoli, check out this tour.