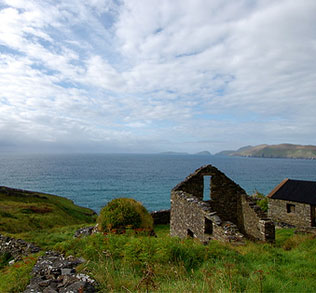 A great alternative to the tourist clogged Ring of Kerry is the not-as-famous Slea Head Drive west from Dingle. Having experienced both routes, I found that the "Ring of Dingle" was much more enjoyable and included some of the most beautiful and interesting scenery I have ever seen. Its dramatic landscape includes many highlights such as the Gallarus Oratory, the curious Beehive Huts and the brilliant views that Slea Head has to offer. It is said to be true that the drive west from Dingle has the greatest concentration of archaeological sites in all of Ireland. There are promontory forts, Ogham stones and ruins of both Pagan and early Christian buildings.
Upon arriving in the town of Dingle early in the evening, we sorted out a place to stay and set out to explore a bit starting at the water's edge. The picturesque town of Dingle faces a sheltered harbor from which three main streets rise. With its typical Irish houses, painted in every color of the rainbow, just wandering leisurely through town with all its pubs, shops and art galleries was a lot of fun.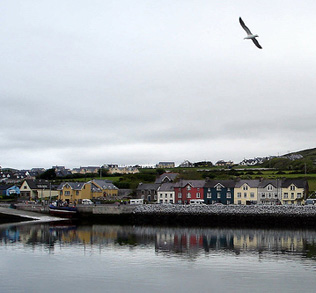 After working up an appetite from walking around town taking photos, we sat down for a nice dinner in one of Dingle's renowned restaurants, Lord Baker's. The quaint setting and great food made for a very relaxed and enjoyable dinner. After finishing up, we headed back down to Strand Street where we had seen a very inviting pub named O'Flaherty's earlier on. We immediately found O'Flaherty's to be a particularly pleasant place and spent the rest of the evening there enjoying the open fireplace and friendly crowd of locals and visitors. There was also lots of music from a constantly changing group of whomever felt like taking a turn. Upon leaving the pub that night, I felt very warm and fuzzy and distinctly remember feeling as if I had just experienced something very special.


The next morning, as our trusty guide book suggested, we stopped at the tourist office in Dingle to pick up a local visitor's guide that pointed out the most interesting sites and how to reach them before heading west. The drive, which takes a good day, guides you along the famous Slea Head Drive to see beautiful beaches at Ventry, Slea Head and the Blasket Islands at Dunquin and the amazing scenery in Ballyferriter, Ballydavid, Feothneach, Muiríoch, Glens and back again to Dingle.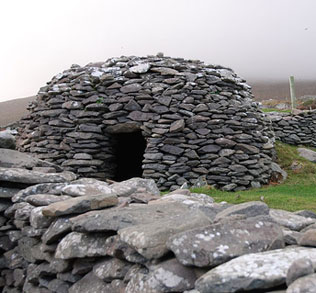 The first thing that really stuck out to me was the town of Ventry, a traditional Irish speaking area with beautiful views of its sandy beach and the majestic Mt. Eagle. Slea Head is the most beautiful and rugged part of the peninsula and overlooks the Blasket Islands. This group of islands to the west was inhabited until 1953 and many of Ireland's great Gaelic literary figures were born and raised here. My favorite stop along the way was at the Beehive Huts. At one stage, there were over 400 of these drystone huts which are primarily single unit structures. The Gallarus Oratory, which dates from the 7th or 8th century, is a Christian cell made of corbelled stone which I found to be very interesting as the cell is as dry inside as the day it was completed. The drive also takes in ancient Kilmakedar Church and the Ogham stones.
The west coast gets a fair amount of rain and while many rain showers usually pass through very quickly, weather is something to consider. However, while it rained on and off the entire day of our drive, it didn't put a damper on things at all. If anything, it made for a more dramatic setting for our photos.