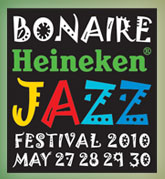 A variety of music styles will be heard around the island of Bonaire when internationally famous musicians mingle with the island's local bands at the Bonaire Heineken Jazz Festival. A Jazz & Poetry Evening will once again kick-off the festival on Thursday, May 27th, 2010, with the romantic backdrop of Fort Oranje.
May 27th, 2010 – Kaña Brabu (Bonaire) and Merietza Haakmat & band (Curaçao) pave the way for Henk van Twillert & Tjako van Schie (Holland).
May 28th – Manny Moreira & Equator (USA), the New Generation dancers (Bonaire) and Joke Bruijs & Band from the Netherlands.
May 29th – The Silver Bullet Steelband takes the stage, together with BEKU (USA and Bonaire) and Arturo Sandoval (USA and Cuba).
May 30th – Jazz Brunch at Divi Flamingo Beach Resort & Casino.
Jam sessions with the festival musicians follow each concert begining at midnight at Sense, close to the Plaza Resort, and go on into the wee hours.
For more information visit: www.bonairejazz.net