Home » Getaways + Events, travel activities, travel advice
Huahine – Surfing and Solitude in French Polynesia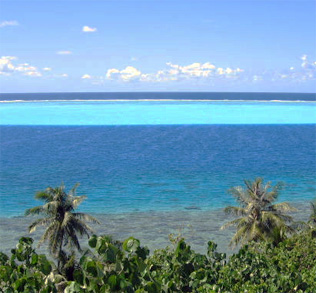 With its lush forests, untamed landscape and quaint villages, Huahine is Polynesia at its best. A thirty minute flight from the island of Tahiti, Huahine is surrounded by a crystal clear lagoon and at high tide is divided into two islands: Huahine Nui to the north and Huahine Iti to the south. Huahine stands out among the Society Islands for its solitude and quietness more than for its abundance of long and beautiful white sandy beaches and beautiful bays. Although Huahine sees far fewer tourists than Moorea, Bora Bora or Tahiti, it is often considered a favorite of many travelers who have visited the area.
The village of Fare is a delightful seaside town that exudes French charm with small pastry shops, restaurants and quaint shops along its waterfront. Concentrated within only a few blocks, the village comes alive each day with the arrival of the ferry. Most island activities such as land and lagoon tours, glass-bottom boat tours, diving and deep-sea fishing begin in Fare.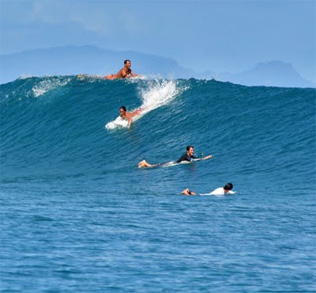 Huahine has a reputation as being one of Tahiti's surfing hot-spots. Next to the island of Tahiti, it gets more surfers than any other island in French Polynesia. If surfing is your thing, you won't want to miss the renowned waves of Ava Mo'a Pass which faces the village of Fare. As with all of the best surfing spots on the Tahitian islands, the best breaks are located at the passes between the lagoon and the open ocean. Overall, the waves and the swell here is consistent and simply amazing.
Life in Huahine is truly laid back with little in terms of nightlife and only a couple of small beach resorts.