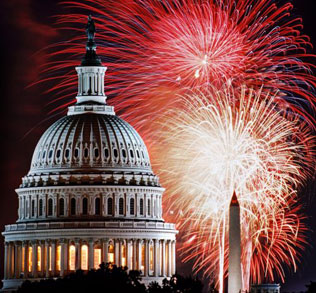 Washington D.C. is one of the most quintessential American cities there is. There are so many things to do in DC that it's easy to get lost in all the American history. Renowned DC attractions like the Lincoln Memorial, the White House, and the U.S. Capitol building pull in a majority of tourists, but there's so much more to do and see! Arguably the best time to visit the Capitol is on the most American day of them all: the 4th of July. Just being in the city for the amazing patriotism that is showcased is enough to make anyone feel like a real American, but Washington D.C. pulls out all of the stops to make our Nation's birthday one to remember for you and yours.
Some 4th of July events are as follows:
Washington D.C.'s Independence Day Parade beginning at 11:45 a.m. proceeds from Constitution Avenue and 7th to 17th street.
4th of July at the National Archives beginning at 10 a.m. and going to 9 p.m.
Smithsonian Folklife Festival from 11 a.m. to 5 p.m. (July 4th).
White House Visitor Center Family Events between 9 a.m. and 3 p.m. at the White House Visitor Center.
Concert on the Washington Monument Grounds kicks off at 6 p.m. with the U.S. Army Concert Band right in the shadow of the Washington Monument.
The famous A Capitol Fourth Concert that goes from 8 a.m. to 9:30 p.m. (admittance begins at 3 p.m.) on the west lawn of the U.S. Capitol.
Of course there's so much else to do in the city that will be boosted up by the fact that it's the 4th of July. There are dozens of DC tours, D.C. walking tours, and D.C. museums that it's easy to fill your days to the brim of red, white, and blue. Over 150 museums like The Smithsonian National Museum(s), the Newseum, and the National Museum of Crime and Punishment are all ready to let you see history up close and personal.
All of these attractions are amazing but nothing compares to listening to "Stars and Stripes Forever" while the sky lights up over the city with hundreds of fireworks throughout the night. Independence Day is an amazing time to celebrate America, but with all these amazing events there's no place better to do so then the Nation's Capitol.
Guest blogger Erik Braunitzer is a member of the web department at The National Museum of Crime and Punishment. As the Chief Content Coordinator, he maintains all creative writing efforts put forth by the web team.
IMAGE VIA: Erik Braunitzer