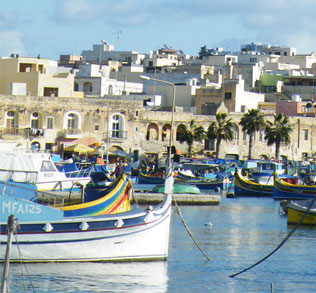 It's with good reason Lonely Planet refers to "the magic of Malta." Known for its golden, sun-kissed beaches, this tiny island country in the Mediterranean has all that – and more. Especially in the summer, the warm and welcoming Maltese people host visitors on holiday from all over the world.
You can take a high speed hydrofoil ferry from Italy or Sicily to the capital city of Valletta. The city is compact, walkable, and easy to explore. You'll find so much history, wonderful architecture, and so many beautiful gardens in such a small area! Begin at the theater to view "The Malta Experience" in order to acclimate to the remarkable story and culture of these resilient people.
There are so many "must experience" cities in Malta: Mdina, a charming, walled medieval city; Marsalokk, a fishing village known for its colorful boats and amazing Sunday fish market; and Mellieha Bay at sunset. A day trip to Gozo, the tiny island off the northwest tip of Malta, is a must. The central city of Victoria and its Citadel (have lunch at the Main Square Restaurant on the roof), great diving spots like the Azure Window and the Blue Hole, the caves at Ramla Bay, the Ta' Cenc cliffs, and the ladies making lace at Ta' Dbiegi Crafts Village are all worth a visit. In fact, you can make quieter Gozo the center of your Malta experience. Quaint "farmhouses" are abundant here and fairly inexpensive.
Malta's a great place to explore "off the beaten track," away from the main drag and its perilous roundabouts. There are many tiny, but delightful, one lane dirt back roads. Every village in Malta has an annual "festa" in honor of its patron saint. Do your research and catch one if you can.
Malta is affordable with many awesome local restaurants. It's easy to fall in love with the food and drink: the local brew, Cisk; wines from the Marsovin vineyard; gbejniet (peppered goat cheese); pastizzi (pastry stuffed with cheese or mushy peas); fenek (rabbit); mqaret (nougat candy); butter beans; Maltese sausage; and, of course, the abundant seafood.

A big thank you to Christy Southergill, a lifelong friend and co-founder of Loblolly Lane, LLC, for her guest article. Based in Phoenix, Arizona, Loblolly Lane promotes awareness of driving, traffic, and transportation concerns and advocates for the safety of our families and the quality of life of our neighborhoods.
IMAGES VIA: oliviacapel and larrylurex on flickr