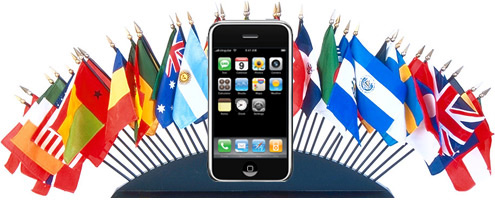 Staying connected while traveling the world is easier than ever. On a recent international trip, I was actually very surprised at just how easy it was to stay connected using my iPhone. However, it's very easy to get caught off guard with the high costs involved in staying connected while traveling abroad if you don't plan ahead. Before you travel, you should make sure your device is set up properly and that you are aware of all the costs involved.
Here are some tips we've learned during our recent travels to save you money while using your iPhone throughout the world.
Before you leave:
Activate a "Data Global Add-On" plan for international data roaming. AT&T plans vary in cost based on how many MBs you need. The cheapest option, for an additional $24.99 a month (on top of your domestic voice and data iPhone plan), offers users 20MB of data per month. If you go over the limit while within a list of approved countries, you will be charged $.005/KB per additional KB which is roughly $5 per MB. If you wander outside of that list of approved countries, the cost is $.010 per KB or $10 per MB.
Tip: If you get close to the limit of your allotted data plan, you can increase your data by upgrading to a plan with more capacity before you exceed it.
Activate the "AT&T World Traveler" plan which allows for cheaper call & SMS rates. Plans start at $5.99 and lower the cost per minute for voice calls and allow for a select number of instant messages.
Download the free AT&T myWireless Mobile app as it allows you to easily manage your service add-ons while traveling internationally.
Download the free Skype app available for the iPhone which allows you to make cheap calls over WiFi. I skip/miss regular calls to my iPhone number and then call right back using Skype.
Turn off all push data services and notifications. Go to Settings>Mail>Fetch New Data> then select Push and turn it OFF. On the same screen, set Fetch to Manually.
Move or delete anything you can out of your IMAP email account Inbox as having a smaller Inbox will reduce data updates.
Have a read over the AT&T iPhone Tips for International Data Roamers available on the AT&T site.
As you board your international flight:
Turn off Data Roaming on you iPhone by going to Settings>General>Network>Data Roaming then turn OFF Data Roaming. Only turn it on when you want to connect for data.
Reset the iPhone Usage Tracker to Zero by going to Settings>General>Usage>Reset. While you're on the road, periodically check your data usage.
When you return home:
The last tip is to wait for a week or two after returning home to deactivate your "Data Global Add-On" and "AT&T World Traveler" add-ons. While they are pro-rated monthly, international billing can take a week or more and you don't want to be charged at the higher rate.