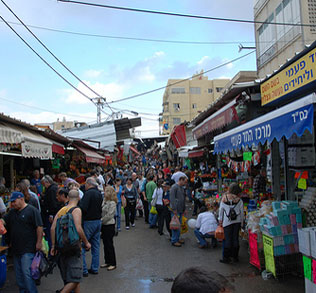 While there are loads of things for travelers to see and do in Tel Aviv, no trip is complete without a visit to one of the many markets located around the city. Tel Aviv offers a great array of outdoor markets or "shuks" where vendors erect stalls and sell all sorts of things from fresh produce to antiques and souvenirs. Wandering around them is a unique way to experience real life in Israel and a clear reflection of the the local Israeli people. For someone, like me, who loves to walk and wander around, people watching at Tel Aviv's bustling markets is the best show in town.
The Carmel Market is Tel Aviv's largest and most popular open air market and is located in the southern part of town near the trendy Neveh Zedek quarter. You can find almost anything imaginable at some of the lowest prices in the city. The easiest way to enter the market is from where Allenby Street meets King George Boulevard and Sheinkin Street. It is also possible to get to the market from its other end near the Carmelit bus terminal. Take bus No. 4, 1, 2, or any bus passing through Allenby St, and No 8, 24, 25, or any other going to the Carmelit terminal.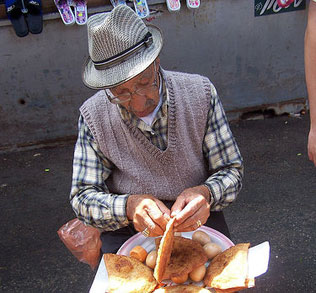 Upon entering the market from Allenby Street, you'll see clothing and footwear stands. Just inside the entrance to the market, on your right before the fresh food section, there is a small Turkish Borekas booth which is not to be missed. Many people consider this booth to have the best Borekas in town. While Borekas originated in Bulgaria and Turkey, Israel now claims them as their own. Borekas are a pastry, filled with cheese, potato or spinach. When you eat one that is just out of the oven and still warm, it is to die for. Here at this booth, they come sliced up with a hard boiled egg, pickles, tomatoes and a spicy tomato sauce.
As you descend deeper into the market, you'll find booths and stalls featuring designer t-shirts and jeans, traditional delicacies like Baklava and Knaffe, spices, and much more. If you have a weak stomach, you may want to consider skipping the meat and fish sections, as the odors emanating from these stalls can be too much for your aromatic senses to handle. In addition, some of the scenes are enough to increase the number of vegetarians in the world.
IMAGES VIA: noam_fein and ehud on Flickr