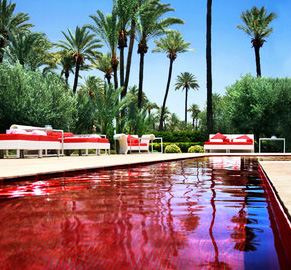 Owned by one of Paris' trendiest hoteliers, the Murano Resort in Morocco's "Red City" (also known as Marrakesh) is a chic, palm-filled oasis with a pool that is unlike anything else in the world. Sitting in the center of the resort, surrounded by a maze of red and white sofas, is a 105 foot long pool that's paved with red enamel and similarly hued mosaic tiles which give the pool water a red tint and provides a visual allusion to the city's nickname.
The real transformation comes at night when, set against the surrounding darkness, scarlett lights in the pool and the surrounding landscape are illuminated to create a truly magical atmosphere.
The resort itself is very different than the traditional hotels in Marrakesh and its glamorous and edgy design will appeal to younger couples, honeymooners and party people. While the resort creates a serene environment that blends a bit of authenticity, modernity and sophistication, it is not for those looking for a truly authentic Moroccan experience or a central location.
IMAGES VIA: Murano Resort Marrakesh