Visiting and getting around New York City on less than $100 a day can be tricky, but it can be accomplished. It just needs to be carefully thought out and here's how we would attempt to do it:
Breakfast: $5.00 – Grab a bagel and a coffee from Bagels on the Square or pick a random spot of interest that's close to where you are staying. If breakfast is included with your accommodation, take advantage of it and use the $5.00 or so you save for something else. I would head down to Bagels on the Square and start my morning activities from there.
Morning Activity: Take a walk down Bleecker Street and Christopher Street. Stop and browse in the many cool shops like Bleecker Street Records or walk by the now closed Oscar Wilde Bookshop. Then head over to the iconic Washington Square Park, home to the Washington Square Arch and many intense chess games. No trip to Washington Square Park would be complete without a visit to the famous chess area located on the southwest corner of the park. If chess is your thing, it's easy to get a game going with the locals. However, you're probably better off paying the going rate of about $5 for 2 games instead of gambling with the hustlers.
Lunch: $7.00 – Grab a bite at the highly recommend Mamoun's Falafel on McDougal Street.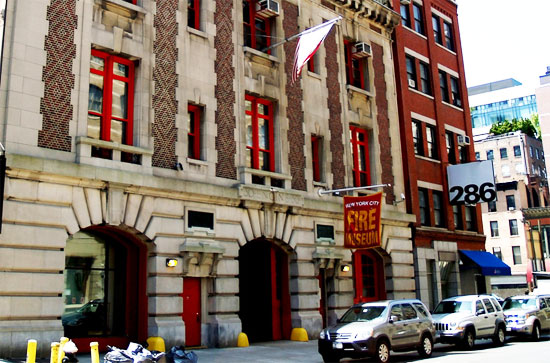 Afternoon Activity: $5.00 – Visit the New York City Fire Museum on Spring Street between Hudson and Varick Streets in Soho. The museum, once an active firehouse from 1904 to 1959, is filled with everything from 18th century hand-pumped fire engines to modern equipment. A highlight is the permanent exhibit commemorating firefighter heroism and the attack on the World Trade Center. Then have a walk around New York City's famed China Town and Little Italy.
Dinner: $12.00 – Mooncake Foods on Watts Street in Soho is a delightful spot offering fun casual Asian comfort food. The food is amazing and the atmosphere is very cozy.
Nighttime Activity: $22.00 ($10.00 + 2 drink minimum. Free some nights*) – Catch a comedy show at the Comedy Cellar comedy room in the heart of the village, located below the Olive Tree Cafe. *Reserve seats online for Sunday – Thursday night shows and your tickets are free.
Transport: $8.00 – Buy a Pay-Per-Ride (Regular) MetroCard. The fare for the subway is $2.25 and if you put $8.00 or more on your card, you receive a 15 percent bonus. Tip: Buy a $20 pay-per-ride MetroCard for your entire stay which is good for 10 trips for the price of 9.
Accommodation: $40.00 – Chelsea Star Hotel New York City. This Cheap New York City hotel on 30th Street and Eighth Avenue near Penn Station and Madison Square Garden, in Manhattan's Chelsea district, offers unique decor and a variety of accommodation types for an affordable stay.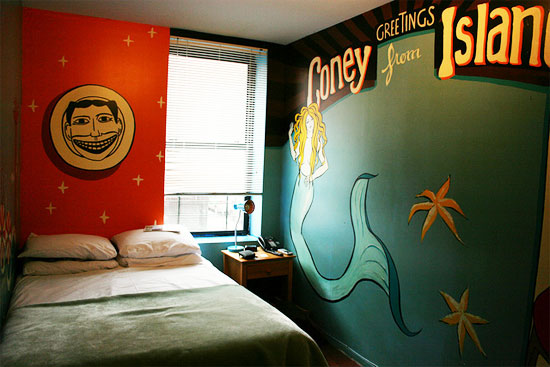 IMAGES VIA: remster_9, home.nyc.gov, GmanViz, hellojenuine