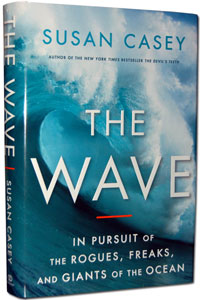 If you have a loved one on your gift list who happens to enjoy traveling, you might want to consider one of these travel related books as a gift. From some of the latest best sellers to a few of our own personal favorites, any of these books will surely be a hit during this year's holiday gift giving season.
The Wave: In Pursuit of the Rogues, Freaks and Giants of the Ocean
by Susan Casey – O magazine editor-in-chief, Susan Casey, travels across the world and into the past to confront the largest waves the oceans have to offer. This dangerous water includes rogue waves south of Africa, storm-born giants near Hawaii, and the biggest wave ever recorded, a 1,740 foot-high wall of wave (taller than one and a third Empire State Buildings) that blasted the Alaska coastline in 1958.
Betty In the Sky With a Suitcase: Hilarious Stories of Air Travel by the World's Favorite Flight Attendant
by Betty N. Thesky – Betty in the Sky with a Suitcase is a wildly popular podcast about airline travel by real life flight attendant Betty, who shares funny stories from pilots, flight controllers, ground crew, passengers, and fellow flight attendants and is listened to by hundreds of thousands of Betty fans around the world. Now, by popular demand, here is the best of Betty in a book in what might be the world's first podcast-turned-book, or pook. It's a wonderful way to be entertained in the airport, on a plane, at home, and anywhere you want a good laugh.
Lonely Planet A Moveable Feast by Don George – From bat on the island of Fais to chicken on a Russian train to barbecue in the American heartland, from mutton in Mongolia to couscous in Morocco to tacos in Tijuana, on the road, food nourishes us not only physically, but also intellectually, emotionally, and spiritually. It can be a gift that enables a traveler to survive, a doorway into the heart of a tribe, or a thread that weaves an indelible tie. It can be awful or ambrosial, and sometimes both at the same time. Celebrate the riches and revelations of food with this 38-course feast of true tales set around the world.
Whatever You Do, Don't Run: True Tales of a Botswana Safari Guide
by Peter Allison – Whatever You Do, Don't Run is a hilarious collection of true tales from top ­safari guide Peter Allison. In a place where the wrong behavior could get you eaten, Allison has survived face-to-face encounters with big cats, angry ­elephants, and the world's most unpredictable animals—herds of untamed tourists and foolhardy guides whose outrageous antics sometimes make them even more dangerous than a pride of hungry lions.
Make The Most Of Your Time On Earth: 1000 Ultimate Travel Experiences (Rough Guides)
– Perfect for both the seasoned traveller and the armchair dreamer, this book brings you the very best travel experiences – extraordinary landscapes, jaw-dropping architecture, white-knuckle adventures and tranquil hangouts.
Lonely Planet The Traveller's Guide to Planet Earth (General Pictorial)
– From the highest mountains to the deepest seas, the hottest deserts to the frozen poles, The Traveller's Guide to Planet Earth reveals the places you dreamed about after seeing them on the BBC's landmark series.
A Walk in the Woods: Rediscovering America on the Appalachian Trail
by Bill Bryson – Your initial reaction to Bill Bryson's reading of A Walk in the Woods may well be "Egads! What a bore!" By sentence three or four though, his clearly articulated, slightly adenoidal, British/American-accented speech pattern begins to grow on you and becomes quite engaging. You immediately get a hint of the humor that lies ahead, such as one of the innumerable reasons he longed to walk as many of the 2,100 miles of the Appalachian Trail as he could. "It would get me fit after years of waddlesome sloth" is delivered with glorious deadpan flair. By the time our storyteller recounts his trip to the Dartmouth Co-op, suffering serious sticker shock over equipment prices, you'll be hooked.
The Travel Book
(Lonely Planet) – All the writers who contribute to the Lonely Planet travel guide series put heads, knowledge, and experience together to come up with a profile of every country in the world. Each country gets a two-page spread on which are placed, like luscious dishes set before one at a feast, illustrations that are typical of Lonely Planet's unique, non-picture-postcard brand of shots.
Drives of a Lifetime: 500 of the World's Most Spectacular Trips
(National Geographic) – This practical travel planner provides specific, in-depth descriptions of the sights each drive offers, a clear, detailed, easy-to-read map of each route, useful information on the best time to travel, and insider tips to help you get the most out of every fabulous trip. Abundant sidebars call your attention to standout sights along the drive or entertaining background information on the region and its culture.
Robert Young Pelton's The World's Most Dangerous Places: 5th Edition
by Robert Young Pelton – This is the indispensable guide for the intrepid adventurer; a book some governments don't want you to read. Pelton, a professional adventurer, and Coskun Aral, an international war correspondent, have created the only travel guide to danger and adventure.