eDreams, one of Europe's largest online travel agencies, announces Dubai International Airport (DXB) as the best airport in 2010 based on feedback and reviews from 30,000 customers. eDreams compared feedback across several categories and Dubai Airport was rated 4.75 out of a possible 5 points overall. The San Francisco International Airport (SFO) and the Fuhlsbüttel (HAM) Airport in Hamburg earned the titles of second and third best airports.
Top 10 Airports
1.) Dubai International Airport
2.) San Francisco International
3.) Fuhlsbuttel Hamburg
4.) Bangkok International Airport
5.) Zurich
6.) Echterdingen Stuttgart
7.) Pu Dong Shanghai
8.) Dusseldorf International Airport
9.) Franz Josef Strauss Munich
10.) Porto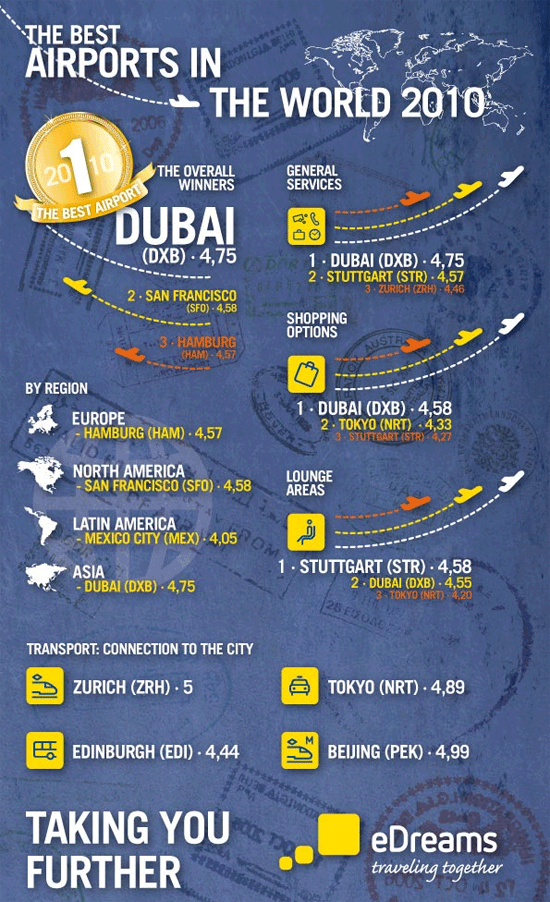 "The Dubai Airport won by a large margin," said eDreams Chief Marketing Officer, Mauricio Prieto. "Many customers commented favorably about the design of the building. They appreciated its modern design concept, functional spaces, and the fact that designers accounted for the real needs of travelers in the new millennium."
Other categories for best airport rankings in 2010 include shopping and restaurant options, lounge areas, Customs control, and airport-to-city transportation options including the metro, buses, cars, taxis, and trains. Winners in each category can be found at eDreams.com.