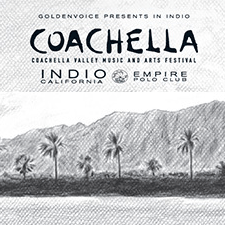 The 12th Coachella Valley Music & Arts Festival is set for Friday, April 15, Saturday, April 16 and Sunday, April 17 at the beautiful Empire Polo Club in Indio, CA and the 2011 line-up includes performances from Arcade Fire, The Strokes and Kings of Leon.
Three-day weekend passes for Coachella go on sale Friday, January 21 at 10:00 AM (PT) cost $269.00, plus surcharges. Full details and up-to-the minute information, can be found at www.coachella.com.
Finding places to stay while attending Coachella 2011 can be tough, so don't delay. Concert goers can find the best deals on Coachella hotels by using our hotel price comparison service that searches all major accommodation websites and compares rates.
While music serves as the centerpiece for Coachella, this year's festival will feature an expanded commitment to art, culture and community via a unique partnership with The Creators Project–a global initiative that supports leading and emerging artists.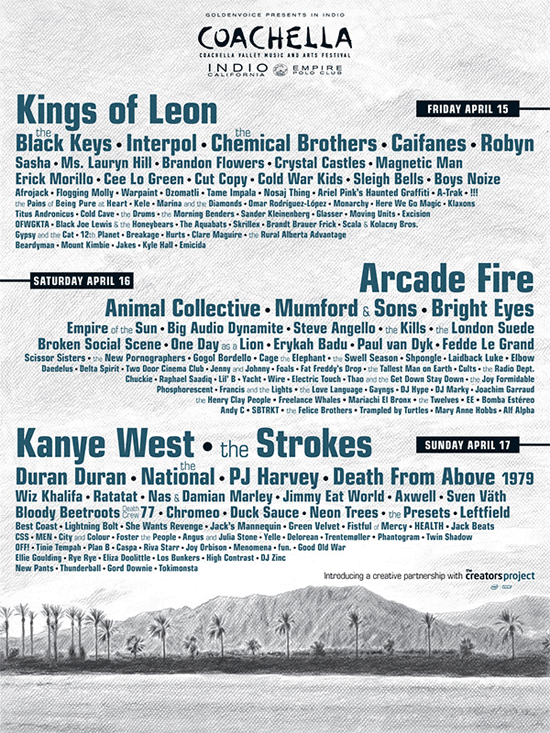 Art & Culture: In a major new addition for 2011, Coachella will partner with The Creators Project to enhance the cultural experience for fans. The Creators Project supports leading and emerging artists across the globe who use technology to turn their artistic visions into reality. Kicking-off 2011 at Coachella, The Creators Project will be the creative partner for the festival, collaborating with select headlining acts and curating a series of art installations on the grounds. By incorporating technology and visual art, the partnership will add another layer of creative expression to the festival. The Creators Project launched in 2010, by Intel Corporation and Vice, to identify leading artists who are pushing creative boundaries through technology and enable them to showcase their works and artistic visions for millions of fans.
Community: The Coachella community goes far beyond the confines of the festival. From the online communities who interact throughout the year on message boards to the friendships formed annually at the onsite campgrounds, Coachella remains dedicated to creating a memorable experience for attendees. Some of this year's onsite camping features include a Farmer's Market, a 24-hour general store, a roller skating rink and free shuttle service to a local grocery store.