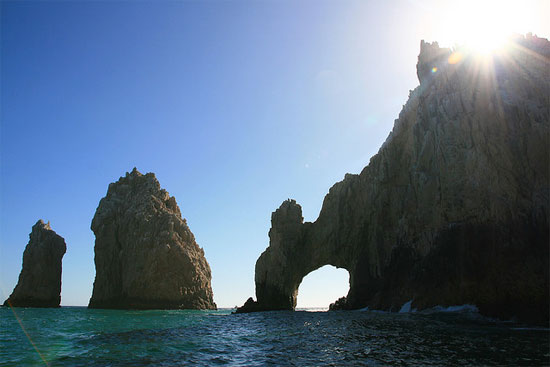 Easily accessible from the U.S., Cabo has developed a reputation for a place to let loose at night and to relax or dive into adventure during daylight hours. There is plenty of enchantment to be found here as well. It is a beautiful, tropical locale that will bring out the romantic in you. To make life simple, we've narrowed down the endless choices for luxurious accommodation in enchanting locations throughout Cabo San Lucas, Mexico. Here are the Most Romantic Places to Stay in Cabo:
Pueblo Bonito Pacifica Holistic Retreat & Spa – Nestled on a secluded beach is the Cabo San Lucas luxury all-inclusive resort hideaway of Pueblo Bonito Pacifica Resort & Spa. A modern yet elegant approach to design and architecture presents luxury without limitations for a memorable vacation of relaxation and self renewal. A tranquil retreat for adults, this is an award-winning resort and spa destination that offers full-service amenities and facilities, including five restaurants, a wellness-inspired spa and oceanview accommodations.
Ventanas Hotel – Ventanas Hotel & Residences are luxurious ocean view private residences which, together, make up this boutique hotel. Tasteful in every detail and appointed with modern amenities, the Residences are sensuously elegant and comfortably spacious. Featuring handcrafted Mexican accents, each Villa faces the sea and offers expansive views of the Sea of Cortez from a private patio, balcony or terrace.
Pueblo Bonito Rose Resort – Enjoy a pampered getaway to the golden beaches of Cabo at the Pueblo Bonito Rosé Resort & Spa. This deluxe Cabo San Lucas resort is located on one of the most pristine beaches in Baja California. Distinctive rose-tinted walls, gleaming domes, marble busts, and a towering statue of Neptune set the Greco-Roman theme of this upscale resort.
Marquis Los Cabos Hotel – Surrounded by the crystal blue waters of the sea, magical sunsets, breathtaking scenery and passionate cultures, Marquis Los Cabos is one of the most romantic hotel resorts in Cabo San Lucas. Enjoy romantic walks along the beach, romantic sunset cruises, intimate dinners, and dancing to sexy salsa. Indulge in romantic couples massages, sip margaritas by the infinity pool, lounge by the glistening sea or enjoy a romantic evening in your beautiful pool casita with spectacular ocean views.
More Cabo San Lucas hotels ranked by popularity – read traveler reviews and search multiple sites for the best deals on the best hotels in Cabo San Lucas, Mexico.
MAIN IMAGE VIA: Tanenhaus