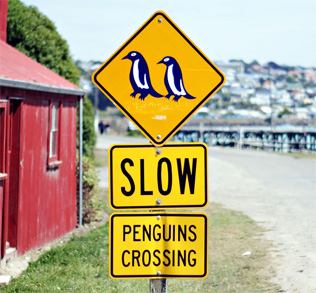 The Oamaru Blue Penguin Colony, located between Christchurch and Dunedin, is home to a group of little blue penguins who come ashore every day around dusk. What started out as a few blue penguins nesting in a rock quarry area at the edge of Oamaru Harbor in the early 1990s is now Oamaru's largest tourist attraction. Upon our arrival in town and after a quick search for hotels in Oamaru, we set out to explore.
Each day after it gets dark, the birds return home from their day of fishing in the sea. They make their way onto the beach, up a stony ramp and cross into the colony. This routine happens at different times during the year as daylight and nightlight times change. During the summer months, evening viewing is as late as 9:00 pm, while during the winter, the birds arrive home as early as 5:30 pm. The actual number of penguins that arrive ranges from as many as 180 birds in the summer to fewer than 30 in winter. The blue penguin is the smallest species of penguin at about sixteen inches tall and is found on the coastlines of southern Australia and New Zealand.
The Oamaru Blue Penguin Colony has a seated outdoor viewing area where each night they offer a commentary about the blue penguins. The viewing lasts approximately an hour from when the first bird arrives until all the birds return. As the penguins are easily frightened by lots of noise, movement and bright lights, visitors are not allowed to use cameras at all.
IMAGE VIA: fras1977 on flickr