Did you realize that if you add up all your weekends you have about 104 free days every year on top of any annual holiday. Suddenly the world feels like your oyster and you might develop the urge to really maximize that free time. Seville and Granada are two of Spain's unsung heroes, with many visitors heading straight to Barcelona or Madrid. But on a cheap weekend getaway, these smaller cities are much more manageable. And don't think you need to spend a fortune. Find out how to eat, drink and sleep in Seville, for less.
Seville
Often dubbed Spain's party town, Seville is also hugely appealing to architecture fans. It has a sumptuous Arabic heritage alongside 17th-century colonial style buildings and also some stylish Art Nouveau vestiges.
Top Sights
The biggest draw here is the way of life with the city offering plenty of idle ambling around the old town. The Bellas Artes is an art gallery worth visiting and there is decent shopping along old Calle Sierpes. For a mere €7.5, the Alcázar is spectacular; A medley of architectural influences, but most famously, an important example of Mudéjar architecture. You can buy a combined €7 ticket to climb the magnificent Giralda tower for a view of Seville and it also gives you access to the Cathedral. Locals enjoy a long siesta so don't attempt too much in the afternoons. Instead, embrace a nice long lunch twinned with a nice long nap. People pay serious money for the major flamenco shows at the top theaters in Seville, but if you're lucky and happy to wait it out until the early hours in a bar in the Triana quarter, you might just catch someone picking up a guitar and a dancer who decides to answer his passionate call!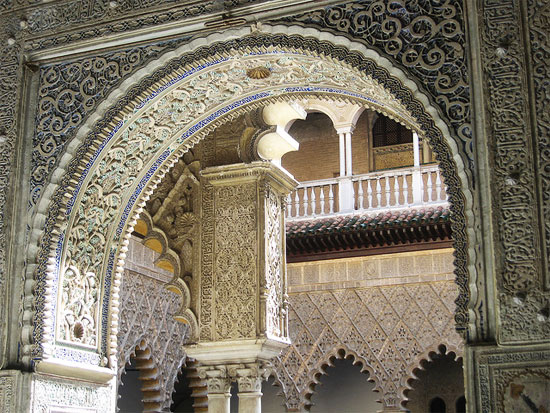 Where to Drink
Seville is also known as "Bull City" so be prepared for walls adorned in bullfighting paraphernalia to accompany your dry fino sherry.
Where to Eat
The emphasis is on traditional dishes over cutting edge cuisine, but tasty all the same with staple ingredients of the area including Serrano ham and grilled meat or fish. Your main meal will likely be at lunch – tapas is reserved for dinner. No need to jot down too many names, just head to the barrio Santa Cruz and look for locals mingling outside the most popular bars. After your meal, join the other Sevillianos for a paseo through Maria Luisa Park
Where to Stay
If you're looking to save money and stay in youth hostels Seville properties usually offer both shared and private rooms. Hostel One Seville is housed in a traditional mansion offering either dormitories or private rooms. Rooms have air-conditioning, free linen and staff treat guests to a free flamenco show in the evenings. The atmosphere is personal with friendly service.
Alternatively, Samay Hostels Sevilla is located in the old neighborhood of barrio Santa Cruz. It has a fantastic roof terrace overlooking the city and is the perfect place to enjoy a cocktail from there on site bar at sunset. Staff are knowledgeable about the best cheap eats in the area.
When to Go
Semana Santa (Holy Week) – the last week of Lent and the week before Easter – is celebrated with religious fervor and parades of Madonnas and icons through the street. But La Feria de Abril is for the party animals. The streets flash with colorful costumes and dancing. There is a daily program of bullfights, a funfair and tents arranged along the river Guadalquivir with live flamenco bands and horsemen performing tricks. But if you are after a truly cheap weekend in Seville, you will avoid these events when accommodation tends to be pricey.
IMAGES VIA: John Picken & Hostelbookers
Editor's note: This sponsored post is brought to you by Hostelbookers.com. We offer sponsors the opportunity to write useful and interesting posts which are clearly marked as written by sponsors. We hope you like the posts and we encourage you to support our sponsors by trying out their products.