Home » travel activities, travel advice, Travel Deals
Take a Ride on the Sydney Ferries
Sydney is one of my favorite cities and one of my favorite things to do in Sydney is ride on the Ferries. For over 135 years, the Sydney Ferries have been servicing Sydney Harbor from Circular Quay (pronounced Circular Key) located in Sydney Cove between the Harbor Bridge and the Opera House. The Sydney Ferries allow you to explore Sydney's many hidden treasures scattered along the shores of Sydney Harbor, like Manly Beach, Watsons Bay and Darling Harbor.
Upon arriving at Circular Quay, grab a timetable and the free 'Guide to Sydney' from the Sydney Ferries ticket booth. Then find a good spot along the water and plan your day. The last time I was there, I actually bought a 'Day Tripper' ticket on three different days. Currently known as a MyMulti Day Pass, the pass will give you access to unlimited travel for one full day on the Sydney Ferries, Sydney Buses & City Rail services. This is a great value. Think about being able to take the ferry round trip to Manly Beach, the bus back to your accommodation, and then bus to dinner at a restaurant across the city for 20AUD.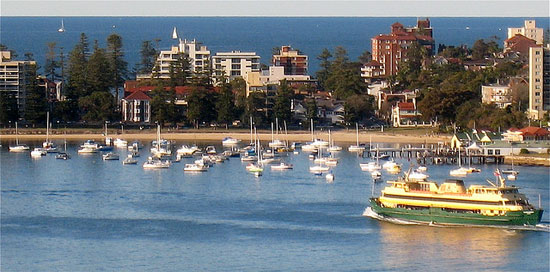 My two favorite trips are Manly and Watsons Bay. Manly, thirty minutes by ferry departing every 30 minutes, is a world class surf beach and a great place to go to experience authentic Aussie beach culture. Watsons Bay, 30 minutes by ferry departing every 30-40 minutes, feels like an old fashioned seaside fishing village. Possibly most famous for Doyle's fish and chips restaurant, Watsons Bay is a great place to spend a sunny day for lunch and a harborside walk. After a day of spectacular views of Sydney Harbor, be sure to grab meat pie from one of the many shops when you return to Circular Quay.
Looking for things to do in Sydney? Check out our top picks and pages of things to do in Sydney!
IMAGES VIA: cogdogblog, Alex E Proimos