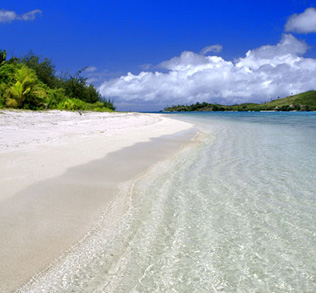 Fiji. The word itself evokes visions of tropical exoticism. It's a place far enough away to equate with any other locale that is truly difficult to get to, like Timbuktu or Tibet. For Australians, Fiji is little more exotic than Hawaii is for Americans.  In our ever shrinking world, it is not so difficult to get to after all. These days, Fiji is becoming a convenient stopover en route to or from New Zealand and Australia and the question of how to get there becomes less important than where, exactly, to go upon arrival. There are over three hundred islands in this paradise nation in Oceania and at least a third of them are permanently inhabited. In my dreams I would see them all.  However, in that place where dreams and reality meet, I settled for just some of them.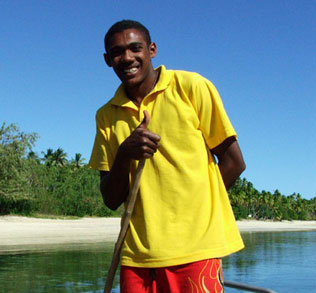 One of the places I managed to make it to was Sunset Island in the Yasawa chain, both because of its legendary beauty and, thanks to a company named Awesome Adventures, the ease of getting there. I arrived at Nadi airport in the wee hours, as many Americans do, but was greeted by Rosie's travel service all the same. From there, I was shuttled off to a nearby hotel to drink tea and peruse the internet until it was time to catch my bus to the marina. By 9:00 a.m. I was headed out with the wind in my hair on the Yasawa Flyer, a large and fast catamaran.  By late afternoon, I found myself transferred to a little boat with an outboard motor, skimming low, warm waves to beach on the Sunset Isle. My memory glistens now with the images of those turquoise waters teaming with coral and of the fine sand licking the coasts. The beaches are some of the world's best. Sunset Isle is near the filming locations of both The Blue Lagoon and Castaway. It is easy to see why these spots were chosen and it is not long before one wonders how the cast and crew ever left. Somewhere around the time I decided to take a snooze in a hammock, I wondered how I would ever convince myself to leave either.
Read: A Trip to Fiji – Part Two
Cheap Flights to Fiji (NAN) – Search multiple sites and compare airfares to Nadi, Fiji and get the best price every time you fly.
Find cheap flights to Fiji through BrilliantTrips. Tip: buy tickets to Fiji in advance to lock in lowest prices, and plan to allow for flexible schedules to get the best travel deals available.
Our Fiji hotels page presents hotels ranked by popularity – read traveler reviews and search multiple sites for the best deals on the best hotels in Fiji.
Looking for things to do in Fiji? Check out our top picks and pages of things to do in Fiji!