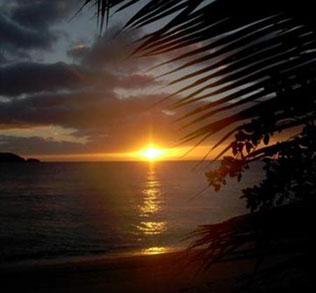 Food was included on the trip and usually turned out to be some variation of catch of the day and taro. I supplemented this with occasional trips, between sun-soaked naps, by heading down the beach to a little hut selling native-made curios and offering English style tea, complete with cakes. On the second day, we voyaged out to the amazing Sawailau caves, once a holy site of the natives. We paddled around in a grotto with natural, cathedral-like caves lit by openings to the sea. We were led on forays into caves whose entrances were hidden underwater and shrouded in absolute darkness. Afterwards, our guides treated us to a show of high diving where a mistake of even a few feet could mean certain death.
That night after dinner we were led to the home of a village elder up in the hill behind the collection of bure, the traditional Fijian huts where we slept. It was time for an ancient native rite. We all sat in a circle and they named the logical person chief of the Kava ceremony: me. All this meant was that it was up me to decide when we all had enough of the drink named from a native plant. I enjoyed the ceremony and the ensuing conversation very much, so I decreed for many bowls to be passed around. The tradition instills a sense of camaraderie and companionship. Kava, a member of the nightshade family, is marketed here in the US as an anti-anxiety herbal remedy. After several coconut bowls of the muddy tasting drink, none of us felt anything more than tingly tongues and a curious sense of well-being. Some much-needed advice must be added here: despite its mellow, almost unnoticeable effect, do not mix it with booze. It's not pretty. Trust me on this one.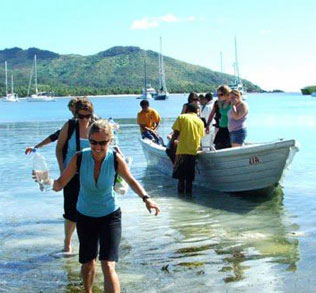 This only covers the first few days of my time on the Yasawas. Getting from place to place was easy and laid-back with Awesome Adventures. The native Fijians had a way of making us all feel like family. "Bula." The Fijians say it for "hello" and for many other things, not unlike the Czech 'prosim' or the Italian 'prego.' The literal translation of the word is 'life'. In sun-drenched Fiji, I can think of no finer or more appropriate word to hear again and again. It is subzero outside here in Colorado and after writing this I find myself scheming on how I can get back to the land of bula.
Read: A Trip to Fiji – Part One
Cheap Flights to Fiji (NAN) – Search multiple sites and compare airfares to Nadi, Fiji and get the best price every time you fly.
Find cheap flights to Fiji through BrilliantTrips. Tip: buy tickets to Fiji in advance to lock in lowest prices, and plan to allow for flexible schedules to get the best travel deals available.
Our Fiji hotels page presents hotels ranked by popularity – read traveler reviews and search multiple sites for the best deals on the best hotels in Fiji.
Looking for things to do in Fiji? Check out our top picks and pages of things to do in Fiji!