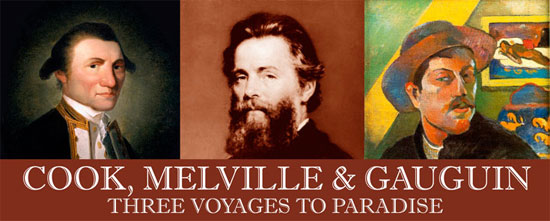 The Maritime Museum of San Diego is bringing history and discovery to life with two groundbreaking initiatives in 2011. In May the Maritime Museum will launch an exhibit showcasing art associated with the three distinct visions of the beautiful South Pacific from voyages by James Cook, Herman Melville and Paul Gauguin.
The first-of-its kind exhibit for the Maritime Museum titled Three Voyages to Paradise: Cook, Melville and Gauguin will feature over 110 pieces, varying from original oil and watercolor paintings to wood carvings and sculpture. The exhibit will include original paintings by 18th century artists John Webber and William Hodges, each of whom accompanied Cook into the Pacific, and many original works by Paul Gauguin, showcasing a newly rediscovered wood sculpture, Nave Nave Faruru. The previously unknown Gauguin work was discovered in Tahiti by Dr. Richard Kelton of The Kelton Foundation and recently exhibited at the Taipei Fine Arts Museum in Taiwan.
The free-standing Three Voyages to Paradise exhibit seeks to illustrate the diverse experiences of these three icons of South Sea exploration. The exhibition, presented by the Maritime Museum of San Diego and drawn from the extensive collections of The Kelton Foundation, runs from May 27, 2011, through January 1, 2012. Tickets for Three Voyages to Paradise will be $10 plus the cost of Maritime Museum admission.
The Maritime Museum of San Diego is also undertaking the construction of a new replica tall ship in 2011. Construction begins in February on a full-sized, historically accurate replica of San Salvador, the flagship of Juan Rodriguez Cabrillo's 1542 voyage of discovery to San Diego. When the construction site opens in April visitors will be able to view the ships construction up close and enjoy displays showcasing 16th century life. The living history displays will include pottery, basket weaving, rope making and knot tying demonstrations; a working blacksmith; an active Kumeyaay village; and living historical reenactments. Construction of the 16th century San Salvador replica is expected to be completed by early 2013, at which time it will join the Maritime Museum's collection of historic ships, including the world's oldest active ship, the Star of India.
Find cheap flights to San Diego through BrilliantTrips. Tip: buy tickets to San Diego in advance to lock in lowest prices, and plan to allow for flexible schedules to get the best travel deals available.
Our San Diego hotels page presents hotels ranked by popularity – read traveler reviews and search multiple sites for the best deals on the best hotels in San Diego.
Looking for things to do in San Diego? Check out our top picks and pages of things to do in San Diego!
IMAGES VIA: sdmaritime.org