Part of the greater Tokyo metropolitan area, the Kanagawa Prefecture offers a huge variety of activities and is a great day trip for visitors to Tokyo. Facing the Sagami Bay, the small town of Fujisawa is located in the central part of the Kanagawa Prefecture. The train from Tokyo takes about 50 minutes and costs about 950 yen. The scenic Enoden Line train service runs between Fujisawa and Kamakura offering picturesque views of Shonan Beach. The fifth stop from Fujisawa on the Enoden Line is Enoshima (about 10 minutes) which is home to a small island close to the shore of a small seaside town that is a popular beach destination, especially with the younger crowd.
Shonan Beach is made up of Enoshima Katase Beach and Tsujido Beach Park and has a bit of a laid back California surfer vibe that symbolizes the image of Shonan and the "Shonan lifestyle." Stretching 5 kilometers from east to west, it's a beachgoer's mecca during the summer as it is the perfect place to surf or just relax on the beach. While the surf here is far from epic, in the summer it is the place to be for the trendy younger folks who can be seen strutting around with their bleached hair and sun-tans.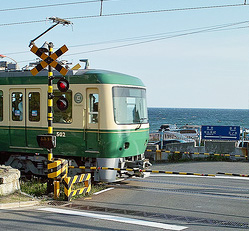 Enoshima Island is a charming island near the beach which attracts many visitors with its walking trails that lead to several ancient temples, a cave, tide pools, scenic overlooks and a lighthouse which is located at the top of the island. The Enoshima Iwaya Cave was formed over the the ages through wave erosion and is made up of two main caves known as the First Cave and the Second Cave. The caves feature mysterious sound effects and lighting and include religious objects, historical photographs and an automated fire-breathing dragon. The recently renovated Enoshima Lighthouse Observatory's observation tower is a popular landmark where visitors can enjoy an amazing 360 degree view.
IMAGES VIA: w00kie and guwashi999 on flickr