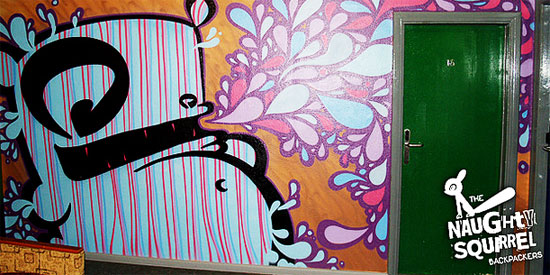 Today, HostelBookers revealed the winning properties in its "Awards for Excellence" 2011, which is now in its second year.
To be eligible for an award, properties needed to receive the highest customer rating for a category. The only exception was the "Most Popular" category, which was based on the total number of bookings made in 2010.
131 properties have been recognized for their outstanding contribution to the budget accommodation industry within 11 categories, including: Top Three properties in each continent, Best Atmosphere, Best Value, Best Location, Cleanliness, Best New Hostel, Most Improved, Best Hostel with Wheelchair Access, Group Recognition, Most Popular and Best Eco-Friendly.
'Top Three Properties in Europe' include hostels in Riga, Rome and Lisbon.
Backpacking in Eastern Europe has become a rite of passage for budget travelers so tourists will be glad to find an award-winning hostel in Latvia. In the heart of Riga's old town center the Naughty Squirrel Backpackers (97.3%) is stag-party free and staff organize plenty of hostel activities.
With a rating of 97.1% La Controra Hostel is housed in an 18th century building and offers travelers a stylish place to stay in Rome. It is located a few minutes from the metro and Termini station is also just a short walk from the hostel which makes it very convenient for exploring the rest of the city.
Lisboa Central Hostel (98.2%) is a family-run property and is located close to Avenida da Liberdade, all the main sights and some great Lisbon nightlife. Offering both dorm and private en-suite rooms this hostel is the perfect place for any type of traveler including students, backpackers, families or couples.
Winners of the 'Most Improved' award had seen the greatest improvement in their customer ratings from 2009 to 2010 and include Amsterdam hostel The Damrak Inn. Meanwhile Plus Berlin won the 'Best Newcomer' award.
In North America, The Miami Hostel has been awarded the 'Best Hostel with Wheelchair Access' while The City Hostel Seattle received the highest customer rating for 'Cleanliness'. In Canada, Montreal Central and Canadian Backpackers Inn in Toronto walked away with awards for 'Best Location'.
In Australia, Cambridge Lodge in Sydney and Globetrotters International in Cairns have both been recognized as 'Best Value Hostels'.
Full details of the winning properties are available on: http://www.hostelbookers.com/2011-top-hostels/