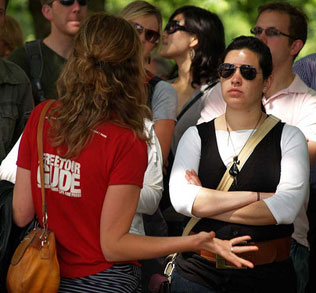 Ah, when to get to a guide and when to work it all out on your own? Yours truly, for years, was a travel-solo-only snob. Why shouldn't I have been? I research where I'm going with a level of neurotic obsession that has been suggested is, perhaps, a mental disorder. I'm a two hundred and thirty pound second degree black-belt. I have a shabby looking bag and travel in shabby looking clothes on purpose so as not to attract attention (though I always have a few nice things tucked away in case of a night out). My day bag is made of steel-meshed fabric with locking clasps and steel cables embedded in the straps. I have been all over the world by myself, figuring it out by myself, and I have enjoyed myself doing so. Still, the more I travel, the more I'm willing to get a guide, or even, maybe, hop on a tour.  Although, you have to be very careful on the selection of a tour and/or a guide. The good ones are more efficient, more secure and often offer things that you cannot do on your own. The bad tour companies and guides insulate you from the best parts of foreign travel AND cost you more money. How to evaluate a tour company will have to be a whole other blog post sometime. If anybody wants a tour soon, let me know.
There are certain spots in the world where you must have a guide. For example, if you have ever dreamed of hiking Kilimanjaro (as I have), you would go there and find that a guide is required and not optional. Likewise, try to hike the Machu Picchu Trail and you will find that a condition on your reservation is that you hire a local, professional guide. Then there are places where you don't necessarily have to have a guide, but you really, really should hire one no matter how experienced a traveler you are. Want to go to Colombia to party in Barranquilla for Carnival, see pink Dolphins in Amacayacu and admire the colonial art at Ciudad Perdida? Well, not only are some of those places hard to find, but also travelers tend to get kidnapped and ransomed in Colombia. It's not as bad as it used to be there, but similar dangers are starting to pop up in other parts of the world now too. Having a guide that is seasoned and confident is a huge deterrent for those who would prey on tourists. I was in South Africa recently and as far as Africa goes South Africa is probably the best country to not have a guide in. However, I could still give you a list as long as my arm as to why our guide in South Africa made the whole trip immeasurably better. He was paid to do it, but still, we put together a collection for a good sized tip at the end. I put as much as I could afford (you tend to be pretty broke at the end of a good trip) into the kitty for our guide's tip. I would have doubled it if I could have. He made all the difference between a good trip and a GREAT trip. In some countries, if you didn't get on the RIGHT tour or if you have done a bad job on your own in planning, you are really helping the chances of making your dream vacation turn into an unpleasant (and sometimes horrific) experience.
We were just talking about South America and Africa, right? Sure, you need guides and tours in places that are less developed, but what about the developed countries? Traveling around Western Europe, while expensive, is easy and, for the most part, pretty safe. Why bother with a guide in places like Western Europe? I have only done it a few times; a few times that have worked out fantastically for me. One of these times, I did have to go to Mia Martin of Cartolina Tours, an Italian travel expert of the highest caliber, to help me out a bit.
Ever heard of Stendhal Syndrome? Well, neither had I until recently, but I had heard of Paris Syndrome, a condition where Japanese people actually experience a culture shock so severe they become physically ill. In Japan it's called "Pari shoukougun". It's common enough that the Japanese government warns travelers of it on their French Embassy website. I also have heard of people having extreme reactions to places like Florence because it is so incredibly rich with culture, but was unaware there was an actual syndrome associated with this: Stendhai Syndrome. Jerusalem is another place noted to overwhelm visitors with the magnitude of its history, culture and religious significance. It's just culture shock, but culture shock can be very, very extreme. I once talked to a person that got on a plane to India for a two month trip and was so disgusted that he changed his flight to come back two days later. I also have a friend who visited India once, ended up getting married, continues to live there and still loves it. Culture shock is a strange thing. Some of us love it, some of us learn to love it, and some need a little help to love it. Even if you've never had a reaction so strong, I think that anybody who has toured places like Paris or Florence, places PACKED with so much art that it all can look the same after awhile, knows what it is like to feel at least a little overwhelmed by it all. Ever gone to the Louvre and found yourself walking faster and faster because it is all looking the same? Museum burnout is what I call it. You go to all of these places filled with marvelous things, but also, in with all of those marvelous things, is a bunch of stuff that maybe isn't so interesting to you. How do you know what piece of art is what? You often can't tell just by a quick glance. You could rent one of those little audio devices where you punch in the number on the display and it tells you about that particular display. You could find some reading material and go looking through each item to find out what in the Museum is really interesting and what is, for lack of a better word, filler. Go with a guide and the guide will be able to tell you what the most impressive pieces are and why. A guide can keep museum burnout at bay and keep all the art and culture from blending together into an incoherent melange. The best thing is that you can ask questions of a guide which, for a person like me who always wants to know everything, is a big deal.  A guide can help to make sure that you really do appreciate all of the things you see and can be a buffer against museum burnout and culture shock, especially severe forms like Stendhal Syndrome, Paris Syndrome, Jerusalem Syndrome or whatever you want to call it. Also, with a lot of guided trips, you are able to pass lines entirely or at least get into a much shorter line.  This alone can make the guided tour worth it. If you've ever seen the lines going out the front door of the Vatican or the Louvre in July, you know what a GODSEND this line skipping really is.


What kind of hidden treasures might your destination have that most people don't know about? Is everything in your guidebook? More importantly, did you read everything in your guidebook? What are those places in towns that only the locals know about? My travel expert tells me there are special guides who know how to get into the Sistine Chapel after it's closed with only 20 people in the group. I've been to the Sistine Chapel. It was so stuffed I felt like a sardine. Though it was still a magical experience,  I have to say, the idea of seeing it with just a few people around sounds like pure bliss to my ears. Want to visit St. Marks privately in Venice? There is a special tour that takes you to parts of the church that most people never see. My Italian expert and friend also tells me that the right people can arrange that too. Know how to get tickets to Il Palio or Giro d'Italia? My Italian expert does. Ever wonder what it might have been like to have gone on vacation like a Roman Emperor would have? Well, he probably would've gone to Capri and probably would've taken a nice, languid cruise around the beautiful island before arriving at his villa. A private yacht cruising the Tyrrhennian sea is a dream worth making a reality, but how do you book it and who knows who the good captains are with the best boats? Somebody knows. Wouldn't you want to know that person if you decided to make that dream come true? If you are going to pick a captain, crew and/or boat, you better make sure they are worth their salt.
I love guidebooks. I have several favorites and one of the things I love most are the restaurant reviews. The gastronomical aspect of travel is one of my favorite things about travel. Sure, you can just stop anywhere for a sampling of local cuisine and I encourage this. I love sidewalk vendors in all countries. I once had jerked goat that was eaten on an impulse.  I pulled over to the side of road and bought it from a guy making it using a steel trashcan for a BBQ. To this day, I fantasize about that goat. It was succulent, tender and made my eyes water with the sheer power of that man's particular formulation of Jamaican jerk. However, I also stopped in at probably the one place in Mykonos with food-poisoning inducing souvlaki. I once ate some tacos al pastor in Mexico that kept me captive to el baňo for at least six hours. In every country I go to, I want to be guaranteed a sampling of quality cuisine of that region, AT LEAST ONCE. My girlfriend remembers wanting to kill me. We criss-crossed across Istanbul looking for this one place that Lonely Planet recommended. I studied the map, walked, made a wrong turn, walked some more, corrected the wrong turn, walked some more and went around the block twice before realizing that particular spot was gone and had changed ownership a couple of months back. I looked and felt like a doofus the whole way. You can't blame Lonely Planet for that. It's a book, it won't update magically. That's why they keep printing new editions. We just went to another place my LP book recommended that was not only delicious, but also offered a sweeping view of the Golden Horn. It was so good that I was completely forgiven for making my girlfriend tromp half way across Istanbul and back.
So, Jake, if this is about guides, why all this info about guidebooks? Well, first of all, even though I love good guidebooks and though the map I had in Istanbul was a perfectly decent one, I still had to walk through the streets with a map in my hands trying to find the place. I still got lost, looked lost (making me a more likely target for a thief), and lost valuable time. Inshallah, I shall return to the city of Emperors someday. However, if I don't, I lost hours wandering around Istanbul that I will never get back. I lost hours that I could have spent doing other things and who knows what part of town I may have missed out on exploring? I love Istanbul, but it's one of the biggest megalopolises in the world with some extremely tough areas. A guide would've meant walking with a confident person through the streets which is not only a convenience issue, but a safety one as well. Also, what about the personal touch? You may know of this one restaurant in Rome that you have heard raved about across the world. What kind of extra special treat might come your way if you walk in with somebody who knows the owner? Maybe the review you read about the place was a year old and has since changed ownership. Want to find out the hard way that this place hasn't been the same since Giovanni, the head chef, retired two months ago? A local guide would know that and would know where you could still have that Cucina Romana that you've drooled over, from afar, your whole life. Would you like to visit a traditional Italian wine-maker, view his estate, see his cellars and more importantly, try the wine he and his family have grown themselves for generations? A local guide can arrange that. On your own, it could be difficult, if not impossible. In a region known the world over for food and wine, don't you want the best when you go? Would you want to know where a 500 year old restaurant that serves three course lunches of Tuscan culinary treasures if you were passing through a particular town or just any old place you happened to stop by? These are all things a good guide can arrange for you.
Guides, sometimes, are mandated by law. Sometimes, you don't have to have one, but you are taking horrendous risks if you don't. All of them, well all of the good ones anyway, will enrich and ease experiences that you will treasure for the rest of your life in ways you cannot imagine. Travel budgets don't always allow for the extra of a guide, but many people fail to see the real value of having one. If you have a choice between going without a guide or not going at all, still go. A trip to Pompeii is still wonderful even if you just wander around and read all the plaques. Remember though, what's more important than price is value. A good guide or tour can add tremendous value to your trip even if it's more expensive. Many of the places that a traveler will see in his or her life will sadly only be seen once.  Make the most of it when you go.
I want to thank Mia Martin of Cartolina Tours for all her help with this particular blog and Fumiko Yoshikawa for verifying and finding the information on Japanese "Paris Syndrome."
Written by: Jake