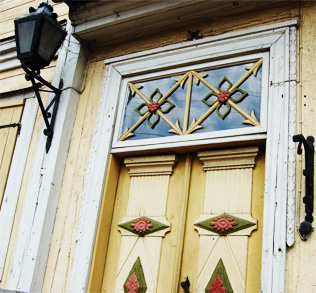 With its well preserved medieval charm, the ancient town of Kuldiga is one of the most enchanting and magical places to visit in Latvia. Located about 150 kilometers from Riga, Kuldiga lies at the crossroads of the River Venta and the land routes which join the Prussian lands with the lower reaches of River Daugava. Very little has changed over the years in Kuldiga's well preserved old town. As a result, Kuldiga is a popular spot with painters and poets.
The town is perhaps most well known as the home of the Ventas Rumba, the widest waterfall in Europe which measures 249 meters wide. During the springtime, salmon can be seen leaping into the air. The old brick bridge over the River Venta is one of the largest of its kind in Europe. In the summer months, there is a ferry which crosses the River Venta. The ferry service was started in order to link the ecotourism nature paths located on both banks of the river.
Kuldiga is also home to the Playing Cards Museum which houses a wide range of playing cards from all over the world. As you might expect, the museum is very unique and is the only museum of its kind in the Baltics.
Read traveler reviews and search multiple sites for the best deals on hotels in Kuldiga and the best Riga hotels.
IMAGE VIA: ziedu_mate on flickr