The relatively unknown Costa Brava in Catalonia is located on Spain's rugged northeast coast. The beautiful sand beaches, quaint coves and jagged cliffs at the edge of the sea harmonize with the natural inland beauty to create an absolutely stunning landscape.
Roughly a 2 hour drive from Barcelona, Costa Brava is the perfect getaway for couples who have a few days to escape the big city in order to find a bit of romance off the beaten path. Here are 3 places that couples looking for a romantic getaway should be sure to visit while traveling throughout the Costa Brava:
Cadaques and Portlligat
Visit Portlligat to see Salvador Dalí's eccentric house and then enjoy a ride from Portlligat to Cap de Creus aboard the Gala, the boat belonging to Salvador Dalí who named it after his soul mate. Later, take a short walk over a hill from Portlligat to the whitewashed coastal town of Cadaqués where you can wander around aimlessly throughout the narrow streets. Spend the night at the romantic Perafita Hotel and Winery where you can sit back, breath the fresh air and savor the stunning scenery in a rather private setting.
Santa Pau
Santa Pau is an interesting historic location that is built around a castle constructed between the 13th and 14th centuries. The site includes a main town square from which you'll see many beautiful arches in the surrounding architecture. Its decidedly medieval personality quickly gives way to green pastures and ideal surroundings for outdoor enthusiasts. The romantic Cal Sastre Hotel is a light and airy hotel set in a lovingly restored period farm house situated just behind the city walls of the 'old town' in Santa Pau. Surrounded by idyllic countryside, the hotel is beautifully decorated in a traditional style and is furnished with charming antique furniture.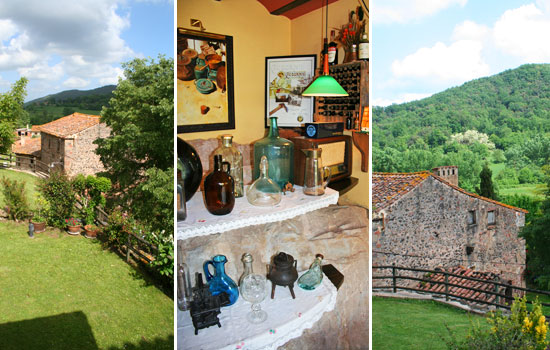 Begur
To be completely candid, the Hotel Aigua Blava is reason enough to make time to stop in Begur. The hotel's romantic location, between thick pine trees and the beautiful coves of Fornells and Aiguablava, is just a short walk from the town. In Begur, you can enjoy the sun and forget all of life's problems. Just be sure to make it back in time for dinner as the gourmet restaurant offers signature specialties with a traditional touch and magnificent views.