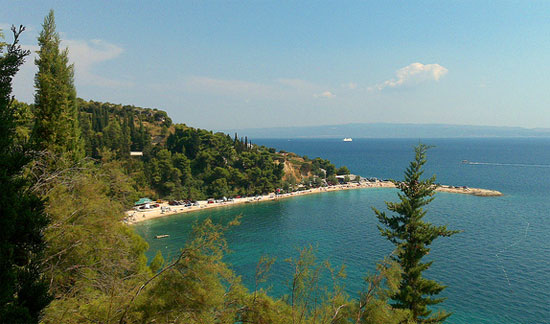 Split's coastline is the city's pride and joy. The Adriatic blue waters and golden beaches are postcard-perfect, and who doesn't love the water-sports? Staying at a Split hostel will give you more time to enjoy Split's many beaches. Al's Place Hostel is one of HostelBookers' customers' favorites – owing to the laid back atmosphere and excellent location near Split's most popular cove, Bacvice Beach.
Young and vibrant
Bacvice Beach
The most famous of Split's beaches, Bacvice Beach enjoys its reputation as HQ of the game Picigin. The ancient traditional game basically involves keeping a small rubber ball in the air as long as possible, to many players' chagrin. If all that crashing and splashing isn't your thing you can enjoy people watching with a cold beer from the beach café's, bars and restaurants. The Blue Flag beach also has the best facilities – with lifeguards, rentals, showers, lockers and a parking lot – and is also well located, just a few minutes' walk south past the railway station.
Calm and pretty
Kasjuni Beach
A more peaceful and attractive scene lies at the foot of Marjan Hill. Kasjuni Beach is narrow and rocky with clean, cool blue waters. The pebble sand beach is bordered by a pine forest and is much quieter than Bacvice. Kasjuni Beach is close to downtown, so easily reachable by bus or on foot. As for facilities there's just a coffee bar and toilets, so take your own picnic.
Quiet and comfy
Kastelet beach
Just before you get to Kasjuni Beach you'll see Kastelet Beach. It's also pebbled, but the white stones are smaller making your lie down more comfortable. There are several coffee bars on the beach and a snack bar, as well as changing cabins and showers.
Busy but sandy
Ovcice Beach
Just after Bacvice Beach you'll find Ovcice Beach – clean and sandy with warm water. You can rent chairs and umbrellas here, but it's also one of the busiest beaches in Split so get there early. There's a coastal coffee bar to keep up with your caffeine fix.
Tranquil and familial
Bene Beach
With shade offered by the bordering pine groves of Park Forest Marjan and a sports ground nearby, Bene Beach is a great spot of shoreline for the whole family. There are tennis courts, ponies and a playground, and picnic facilities and a café nearby. Split is known for its rocky beaches but the comforting sandy-bottomed sea at Bene Beach makes it popular with everyone. The car park is just 15 minutes walk away and the beach is easily reachable by bus. You can also enjoy horse riding here and whizzing down the sea slide.
IMAGES VIA: Hugo, Riquelme Ortega
Editor's note: This sponsored post is brought to you by Hostelbookers.com. We offer sponsors the opportunity to write useful and interesting posts which are clearly marked as written by sponsors. We hope you like the posts and we encourage you to support our sponsors by trying out their products.