On the northern part of Costa Brava, in Spain's Catalonia region, lies the Mediterranean resort town of Roses. The largest resort town on the northern stretch of the Costa Brava, Roses remains a cheerful and relatively cheap resort town and lacks much of the cheekiness of some of Spain's biggest coastal resorts.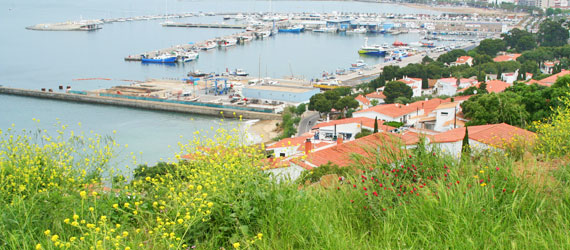 With endless stretches of fine sand that sweep around the Bay of Roses, the beaches are the biggest draw for many visitors. However, the travels through the small bays and villages close to Roses, with a combination of high rocky cliffs and hidden coves, represent the true Costa Brava.
At one of the nearby coves, known as calas, I had the opportunity to explore Joncols. As the road towards Joncols is pretty rough going, I opted for a boat ride there. The beach is made up of rocks and pebbles and has such a steep, shelving seabed that the boat was able to pull right up on the beach. Here I had an amazing lunch on the beach of this unspoiled cove with a wild landscape as a backdrop.
I made the 12 kilometer trek back to Roses via the scenic Roses Express and witnessed spectacular sea views and passed by the world famous El Bulli's, home of Ferran Adria, which serves a highly creative mix of Catalan and international cuisine.
I found that Roses made a good base from which to explore the surrounding region and there are plenty of hotels to choose from. While I was in town, I stayed at the Hotel Terraza, located on the beach of Roses, which is a very comfortable hotel with all modern amenities. The hotel lounge faces the sea and I loved the fact that I could hear the waves crashing on the beach from my hotel room at night.