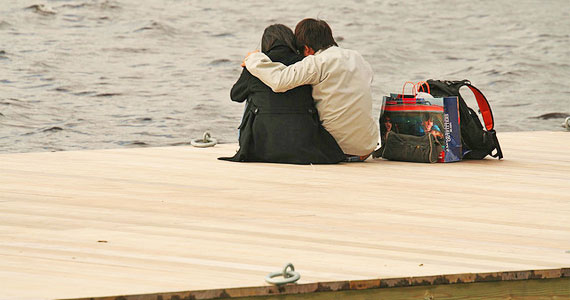 No matter what time of year, Boston is a great walking city. Stroll the historic and charming streets, then warm up by popping into a cozy spot for a drink. Accommodation options are seemingly endless, so we've chosen several romantic hotel options for you. Check out the details of the hotels as each includes a little something extra special. For example, one houses a wonderful chocolate bar while another a charming French brasserie. The choices range from contemporary boutique to classic luxury.
Romantic Places to Stay in Boston
Liberty Hotel Boston – Built in 1851, the Charles Street Jail was thought to be one of the best examples of the "Boston Granite Style" of the mid-19th century. Renovated in 2007, the interior design reflects a passionate commitment to authenticity while a more playful attitude defines its day-to-day style.
Fifteen Beacon Hotel Boston – Fifteen Beacon is a refined landmark hotel that opened in 1999 in an historic 1903 beaux arts building that juxtaposes cutting edge technology with extraordinary Jeffersonian styling. Located across the street from the Boston common and blocks away from the waterfront – this striking cosmopolitan hotel offers a rarefied residential impression. Boston's only luxury boutique hotel is in the heart of the historic and prestigious Beacon Hill.
The Colonnade Hotel Boston – Nestled in the heart of Boston's fashionable Back Bay neighborhood, The Colonnade Hotel Boston offers an exceptional experience for savvy travelers in search of something different. If you can't make it to Paris, The Colonnade Boston Hotel has the next best thing. Brasserie Jo is the hotel's unique and authentic French restaurant.
Ames Hotel Boston – This new property is located in the completely renovated, historic Ames building which is ideally located near historic Faneuil Hall and Beacon Hill. This beautiful Byzantine-Romanesque Ames building was originally built in 1889 as the headquarters of the Ames farm equipment empire. It has been transformed into a 14 story boutique hotel gem. There are 114 rooms and suites decorated in a modern, minimalist design in a historic setting.
Nine Zero Hotel Boston – Located in the Ladder District, this Boston accommodation is central to seeing all the city has to offer. Guests will find easy access to Boston Common, Faneuil Hall Marketplace, the Broadway Theatre, and Boston's financial district.
Marriott's Custom House Resort Boston – Marriott's Custom House stands watch over Boston Harbor in timeless splendor – a towering historic landmark with spectacular views of a city steeped in 200 years of American history. Tour this cosmopolitan city's famous sites and eclectic neighborhoods, then return to the luxury and elegance of this Boston timeshare location, where you can sip refreshments in the Counting Room Lounge, relax in the comfort of your room, or visit the 26th floor open-air observation deck.

Langham Hotel Boston – If you equate chocolate with romance, this is an ideal spot to stay as you can spend Saturday afternoons indulging your sweeter side at The Langham's unique, all-you-can eat Chocolate Bar. The Langham Hotel Boston overlooks the Post Office Square Gardens and is close to many restaurants and shops. Local attractions include Faneuil Hall Marketplace, the boutiques of Newbury Street, the Freedom Trail, the Boston Tea Party Ship & Museum, Boston Common, Chinatown, and the USS Constitution.

Omni Parker House Hotel Boston – Experience the perfect blend of modern amenities and historic charm at America's oldest continuously operating hotel.  Located on the Freedom Trail, guests enjoy grand views of historic downtown Boston, distinguished décor and thoughtful amenities that are evident in every striking detail in each of 551 luxurious guest rooms. As a bonus, the fine dining of Parker's Restaurant is home to the famous Boston Cream Pie.
Our Boston hotels page presents hotels ranked by popularity – read traveler reviews and search multiple sites for the best deals on the best hotels in Boston.
IMAGE VIA: *clairity*