Cape Verde is a beautiful part of the world, often described as the Archipelago of nine jewel–like islands lining the coast of West Africa. It is an island surrounded by natural beauty and its tranquil blue sea, and the entire place is a photographic beauty spot. Along with this, there are some great ways to go past the confines of the Cape Verde Hotels and get the most out of your trip whilst seeing some of the amazing sights and experiences that Cape Verde has to offer.
So here is a selection of great ways to get out of your accommodation and make your trip that bit more exciting, as well as creating perfectly breath-taking moments to be cemented in your memory for years to come.
Manta Diving
For anyone who enjoys diving, or at least would like to give it an honest go, this is a great opportunity to share the water with some of its most humble and serene inhabitants. They are by no means unfriendly animals and their great wing span cuts through the water cleanly as they swim around you in a surreal, filmic reality. It is one of those experiences that has a beautifully unreal quality, almost as if you are separated from the situation yet somehow incredibly close to it; much like that of seeing a film in a cinema. It is a fantastic way of experiencing the strikingly colourful water surrounding Cape Verde and its underwater wrecks, caves and reefs. It is truly an unforgettable experience.
Safari Tour
You simply cannot mention a trip to Africa without someone referring to a safari. The two terms seem to marry rather well together, and there is good reason for this. The Cabo Verde Safari of Cape Verde is a highly rated tour, with a very popular tour guide who is local and has a great knowledge of the places that are visited. Depending on your party, the tour can be adapted to what you want to do or see, and can include snorkeling or a visit to the beach if requested. It is the perfect opportunity to take advantage of your guide's knowledge of the Island to see the corners and hidden gems that may otherwise have been missed or passed up in order to see some of the more popular and touristy spots whilst listening to the unique and captivating stories of your tour guide – Joao.
Visit the Blue Eye of Sal Island
For a really breath-taking experience at your own pace, take a trip to the incredible and stunning natural beauty of the Blue Eye. You can even take a quick dip in the natural tidal swimming pool, whilst admiring the volcanic rocks surrounding you. Organized diving groups often swim into the cave of the Blue Eye, which can be separately arranged. There are three pools in total; one huge pool which can be swum in, the smaller one for diving, and one full of little fish. It is a great day out – but does involve a lot of climbing so needs patience and care climbing over the rocks. Aside from this though, it is a really beautiful and inspiring place to visit.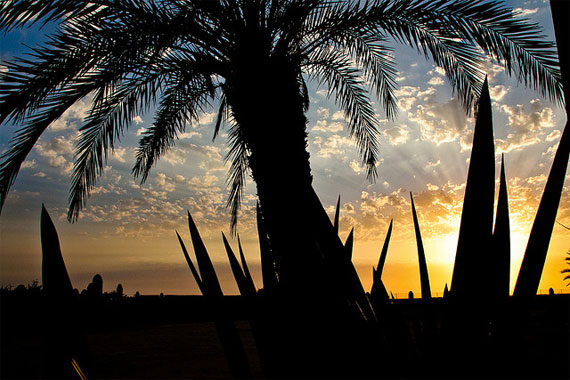 There are lots of things to do and see in Cape Verde, and for more ideas or information, visit My Destination Cape Verde.
By Rosie Baldwin – Rosie Baldwin is a young traveller with itchy feet and a desire to experience new things. Having studied Documentary film-making and Cinematography at University, she has an urge to capture and document the beautiful things around her, and share them with anyone who cares to listen!

IMAGES VIA: Antifluor, IDS.Photos