Tanzania remains one of the most popular destinations for African safaris across the Sub-Saharan continent and if you take even the most fleeting glance at the country's seemingly inexhaustible treasure trove of wonders it is easy to see why.
A world of rugged wilderness and unblemished beauty, Tanzania is a land that beats with the rhythms of the ancient African drum and the poundings of hoof and paw; a nation that has become a stalwart of the African tourism industry it promises such sights as the vast Ngorongoro Crater, the bountiful Serengeti National Park, the colossal Mt Kilimanjaro and of course the spice island of Zanzibar. Tourists from around the globe flock here for luxury safaris drawn by these blockbuster names and in search of iconic African wildlife.
These spectacular landmarks are undeniably the beacons of Tanzanian national identity but if we can for a moment peer past their glimmering lights we can unearth a different Tanzania, an undiscovered and exciting land that veils matchless diversity, striking geography and wonderfully friendly communities.
Tanga like so many other areas in this vast nation, is a region that stands quietly in the shadows of its more renowned neighbours; Mt Kilimanjaro is itself only a stone's throw away from the north eastern territory and yet the number of visitors who endeavour to explore this place is a mere fraction of those who journey to the great mountain.
The capital of the region, Tanga City is in fact comparable in size to some of the country's other major municipalities, Arusha and Moshi yet for most remains entirely anonymous. The community was once considered as one of the most important trading posts in Eastern Africa, connecting central and Western Tanzania with the Indian Ocean.  Throughout the Tanga region but in Tanga city in particular a historical narrative is revealed that tells of a long and mercurial heritage; that includes the adventures of Vasco de Gama, of Arab and Indian traders and vibrant new settlements, the dark days of the slave trade, of German colonists and British rule and finally a new age of independence. This is a place that speaks of a fascinating and sometimes humbling past and where every turn can lead you to a different and intriguing insight into the evolution of modern Tanzania.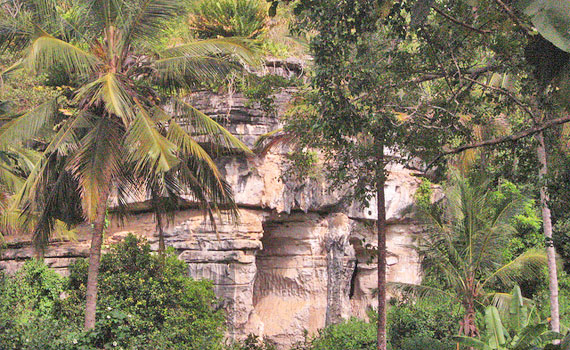 Beautiful German architecture can be observed throughout Tanga City as well as the Pangani, Lushoto, Korogwe and Handeni districts. Just outside of Tanga city and juxtaposed against the relative hustle and bustle is the Amboni Caves, one of the earliest settlements in Tanzania offering numerous cave paintings and artworks to observe and the caves themselves also promise a kind of grand natural theatre with large vaulted caverns and fields of spectacular stalactites and stalactites .
Tanga is wonderfully situated, sandwiched between Kilimanjaro and the huge Selous Game Reserve and fringed to the east by the turquoise waters of the Indian Ocean. Pristine beaches may not be something you would first associate with Tanzania, or at least to its mainland, and yet towns such as Pangani and Saadani offer some of the most unspoiled and deserted coastline in the country.
Away from the sweeping coastline and the rolling plains and grasslands which are also a feature of Tanga, the Usambara Mountains are considered one of the world's true biodiversity hotspots. Unusually for East Africa this region features dense tropical rainforests offering a unique ecosystem and home to a range of endemic species, particularly birds and plant life. Access to the mountains is usually gained through the bustling trade town of Lushoto, a former German colonial community.
As far as wildlife goes two of the most renowned reserves in Tanga are Saadani and Mkomazi National Park. At 3,700 km sq, Mkomazi National Park offers visitors sightings of a range of animals from buffalo, eland, giraffe, Grant's gazelle and zebra to predators such as lions and hyenas. The park is also home to the Mkomazi Rhino Project, a breeding program in which endangered black rhinos from South Africa have been reintroduced to the region in an effort to protect the species.
Tanzania is a complex and beguiling land that offers unfathomable depth. To explore its most famous sites is a wonderful introduction to the nation; but one only really tells half the story. Uncovering regions such as Tanga promises a new and unique perspective of Tanzania and a true insight into one of Africa's most beautiful countries.
By Mark Preston  – Mark Preston is a keen traveller, copywriter and associate of Mahlatini, specialists in African safaris and luxury travel to the Indian Ocean Islands.
IMAGES VIA: Shaun D Metcalfe, Sarah&Joachim, Murky1