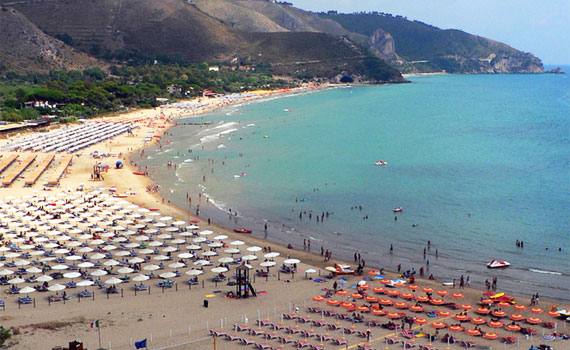 Summer has finally arrived and we are getting ready for summer vacation. Among the most popular summer vacations are the beach get-aways and the city-hopping. Apartments in Rome, Barcelona, Paris or Berlin are already booked and the cities are expecting many tourists during the summer months. But of course with the high temperatures even the most eager city hopper wants to take a break from sightseeing to cool off for a little bit so it's good to know where to do that.
Since Rome is not directly located by the sea it is not exactly a city known for its beaches, but just like everyone else the Romans do get hot in the summer and feel the need for a dip every now and then. So if your destination this summer happens to be Rome continue to read carefully and find out where to go to escape the heat:
Ostia – Lido di Ostia is probably among the names that are most known. Ostia used to be the harbor of the Roman Empire. However, if you would like to go into the water Ostia shouldn't be the first choice. The effluent from the Tiber comes out here and you might find some unpleasant things floating around, but the beach area is very nice for a stroll or a stop at a café for a drink. Interesting for tourist will certainly be the Ostia Antica, an archaeological site that is definitely worth the visit.
Sperlonga – This is a coastal town about 1 hour south of Rome. This is one of the main beaches where the Romans go. The sand at the beach is said to be very soft and the waters are rather calm, which makes it a particularly nice place to go with children.
Terracina – Many refer to this beach as the best on Italy's mainland. And the water is usually warm enough to swim until October. One of the symbols of the town of Terracina that nobody should miss is the Temple of Jupiter Anxur.
Since there are only a few beach options and you have to expect crowds at the beaches during the summer months the lakes around Rome are another option to cool off and escape the heat of the city. For example, Lago Albano which is about 20km away from Rome and Lago di Nemi which is in the same area about 30km away from the city. Both are volcanic lakes in the region of Lazio. They have a small beach area and you can rent canoes and pedaloes. Aside from that you are surrounded by a beautiful landscape with lots of green.
So now you know where to go if you want to take a break from sightseeing in the city and cool down in the water when you are renting Rome apartments. Don't forget to pack your bathing suit!
IMAGES VIA: robertpaulyoung, DavidNeukirch, wlodi, Alexandra Svatikova, XcBiker